Appalachian State University
Phillip J. Ardoin is a Professor of American Politics and serves as Chair of the Department of Government and Justice Studies at Appalachian State University in Boone, NC. I also currently serve with Dr. Paul Gronke as Co-Editor of PS: Political Science and Politics, which is the journal of record for the American Political Science Association. Prior to being selected to serve as Department Chair, I served as President of the North Carolina Political Science Association and Director of the Department of Government and Justice Studies' graduate program in Political Science. From 2009-2011 my family and I lived on the campus of ASU as the Faculty in Residence in Frank Hall. My research interest address a broad array of issues within the field of American Politics. I am currently working on several research projects that range from an analysis of factors which influence Partisan Polarization in the N.C. General Assembly to an examination of the influence of college student voting on local elections throughout the United States and attitudes of political elites regarding college student voting. My most recent publications are available by clicking the research link on the left column of this page. Over the last few years I have taught several undergraduate and graduate courses at ASU which include American National Politics (PS 1100), American Legislative Politics (PS 3230), The Presidency and Executive Branch (PS 4230), Fight Club Politics (Hon 3000), Scope and Methods (PS 5001), Presidential Elections (PS 5500), and Washington at Work (PS 3535/5535).
I was born and raised in Lafayette, LA and graduated from Teurlings Catholic High School. I attended Marymount University in Arlington, VA for my B.A. and completed my M.A. degree and Ph.D. at Louisiana State University working with Dr. James C. Garand. My dissertation, Understanding Congressional Responsiveness (1999), examined the impact of congresssional district heterogeneity on the ideological responsiveness of members of Congress to their constituents. Following my graduate studies at LSU, I served as a faculty and research lab director in the Nelson Mandella School of Publicy at Southern University from 1999-2003. In 2003 I was fortunate to receive the opportunity to join the faculty in the Department of Government and Justice Studies at Appalachian State University. I note as one of my greatest accomplishments sacking on several occasions former NFL Quarterback Jake Delhomme (even though Delhomme was only 12 and I was 17).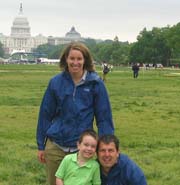 My wife, Elizabeth Dolan Ardoin, is also from Louisiana and a graduate of both Clemson University (B.S.) and Duke University (M.S. in Physical Therapy). Elizabeth works as a physical therapist in the High Country. We have one son who is 11 years old. When not on campus, we enjoy the wonderful outdoor activities available in the mountains of the High Country. For additional information on hikes around the area click on the "Fun Stuff" link in the left column.