Opportunities for Students
Students in my research groups gain experience working with a variety of microscopic techniques and chemical analyses in the course of their investigations, and do their fieldwork in caves, quarries, and a variety of sites throughout the beautiful southern Appalachian mountains and around the world. They are expected to present the results of their research at poster sessions at regional, national, and sometimes international meetings.

If you are interested in working with me, please see my websites listed below to determine what project you're specifically interested in, read my Undergraduate Research Contract to understand what is expected of my students, and contact me with your research interests.

Geomicrobiology Research Group:
http://geomicrobiology.appstate.edu

Devonian Anoxia/Geochronology/Geochemistry/Extinction Research (DAGGER) Group:
http://devonian.appstate.edu

I also have had students work on igneous and metamorphic petrology projects both in the southern Appalachians and in Tanzania.

Note to International Applicants: The Department of Geology awards only undergraduate (BA, BS) degrees. We do not have a M.S. or Ph.D. program and are therefore unable to accept students who seek these degrees. If you are interested in pursuing a M.S. in geomicrobiology my lab, you must have an undergraduate degree in Biology (or equivalent relevant coursework) and apply through Dr. Suzanna Bräuer's research group in the Department of Biology.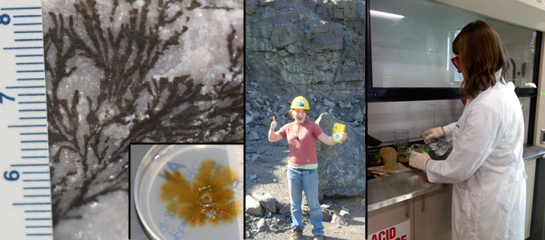 If you are interested in cave geology, please be aware that much of this fieldwork requires intense physical exertion. You will get very, very dirty, and you may be in (very) confined spaces with spiders, bats, and other creatures. For your own safety and the safety of others, you must be in good physical condition and not suffer from claustrophobia. Rock-climbing skills are a definite plus. You will have to follow the full WNS decontamination procedure after exiting each cave, so experienced cavers are asked not to bring any personal gear that would be damaged by this procedure.