Research
My research involves a variety of techniques such as CL (cathodoluminescence), scanning and transmission electron microscopy (SEM and TEM), X-ray diffraction, Fourier Transform Infrared Spectroscopy (FT-IR), and stable isotope analysis (particularly strontium, carbon and oxygen). My current field areas include Tanzania, western China, western Mongolia, and a variety of field sites (including caves) in the southern Appalachians.
Current research: oceanic anoxia in the Late Devonian.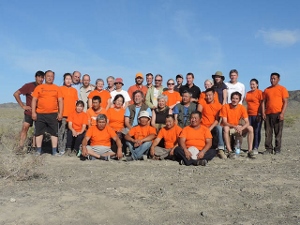 Much of my current research includes work with Dr. Johnny Waters on geochemical changes preserved in sediments during mass extinctions. Our field sites are in China, Mongolia, Vietnam, and Europe, and the work is part of the International Geoscience Programme (IGCP) Project 596 on Mid-Paleozoic climate and biodiversity (organized through the United Nations Educational, Scientific and Cultural Organisation and the International Union of Geological Sciences). For more information, visit http://devonian.appstate.edu.
Current research: geomicrobiology of caves in the southern Appalachians.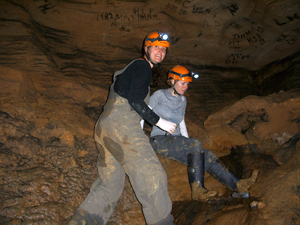 My other primary research direction is interdisciplinary geomicrobiology research with Dr. Suzanna Bräuer in the Department of Biology and Dr. Cara Santelli from the University of Minnesota, characterizing the crystal structures of biologically mediated Mn-oxides in southern Appalachian caves and environments affected by acid mine drainage. This photo shows Dr. Suzanna Bräuer and I in one of our most visited caves, in Carter Co., TN. You can explore this cave yourself with a guided tour from Appalachian Underground. For more information about our geomicrobiology research group, visit http://geomicrobiology.appstate.edu.
Current research: reactive fluid flow, ore deposition, and biomineralogy in the southern Appalachians.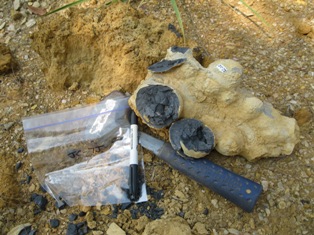 I also use multiple geochemical tracers to determine the fluid flow history and origin of Mn-oxide deposits in Cambrian rock units in the southern Appalachians. This work is in conjunction with Daniel Doctor and Ryan McAleer of the USGS, and Crystal Wilson at Appalachian State.
Current research: the Engare Sero Footprint Site, Tanzania.
I am also involved in the Engare Sero Project with Dr. Cynthia Liutkus to help fingerprint the source of the volcanic ash that has preserved early hominid footprints in Tanzania. New research on the project includes an investigation of the evolution of mineral chemistry in Si-deficient and carbonatite ash layers from the Ol Doinyo Lengai volcano.
Past research: modern hydrothermal vent systems at 9°50'N East Pacific Rise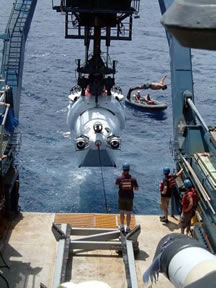 Prior to coming to Appalachian State, I spent much of my time at sea, on the R/V Atlantis, studying hydrothermal vents located at spreading ridges on the seafloor. My research explored fluid-rock interactions in altered basalt at the 9°50'N East Pacific Rise (EPR) Integrated Study Site (ISS).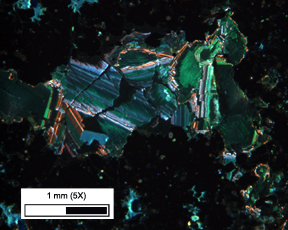 These rocks are unique for several reasons: they are the only samples to date that have been collected from a stockwork beneath an active hydrothermal vent, they have 15 years of hydrothermal vent fluid data associated with them, and they represent an active hydrothermal upflow zone. The CL image on the right shows trace element zoning in anhydrite, from a stockwork sample at 9°50'N EPR.
Past research: Triassic hydrothermal vent systems in the Latemar Dolomite, northern Italy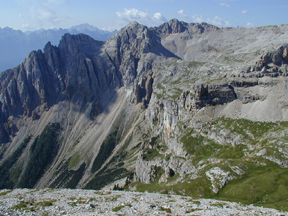 My graduate work in the Latemar carbonate buildup, northern Italy explores the "Dolomite Problem," a classic sedimentology problem, from a metamorphic petrologist's point of view. It uses reactive transport theory to interpret the chemical, isotopic, and mineralogic effects of fluid-rock reactions in a (very) low-temperature metamorphic setting, one that is analogous to modern diffuse effluent systems in hydrothermal vent fields at mid-ocean ridges.