In Appalachian State University's Innovation Campus project, the term "campus" refers to both physical space and collaborative spirit.
This initiative is expected to have a powerful impact on the region's economic development by expanding and enhancing Appalachian's curriculum to produce a workforce of critical thinkers who are capable of developing economically, environmentally and equitably sound communities.
The Innovation Campus will be located at the site of the former Broyhill Inn and Conference Center on Bodenheimer Drive and the edge of the neighboring Nature Preserve.
New facilities being discussed are:
A 15,000-square-foot Conservatory for Biodiversity Education and Research, partitioned into spaces for research, teaching and demonstration.
Eight greenhouse rooms.
Workspace for multidisciplinary projects.
Research/lab/studio space renewable energy labs.
Conference rooms.
Expanded exhibition space.
The Innovation Campus will embrace multiple disciplines and include collaborations both on campus and with the community. It will bring together expertise found in the Appalachian Energy Center, the Center for Appalachian Studies, the Research Institute for Environment, Energy, and Economics, the Center for Entrepreneurship, and the Small Business Technology and Development Center.
This project is described in Appalachian's Master Plan 2025 as "The Broyhill Innovation District." (page 87)
How is it funded?
The Bodenheimer Drive property has been designated as millennial campus space since 2015. This gives Appalachian the flexibility to develop the property with private sector firms, issue bonds or lease the space.
Who will benefit?
Students who will become tomorrow's solution-makers, as well as the community, state, region and beyond who are served by the increased student engagement with research, creativity, innovation, design thinking and entrepreneurship.
How does it support UNC System Goals and Metrics?
Appalachian can produce more graduates in the critical workforce areas for North Carolina — identified in the UNC System's strategic plan as STEM, health sciences, K-12 education and emerging workforce areas — who are capable of addressing the needs of the world.
Status
The full Innovation Campus may not be realized for 10 years. University leaders are in the planning stages for the proposed facilities, beginning with the botanical conservatory which can demonstrate, on a small scale, the envisioned interplay of the Innovation Campus.
A 360-degree view of the future Innovation Campus site, which will include the Conservatory for Biodiversity Education and Research. Video by Marie Freeman
Appalachian's Innovation Campus Video Transcript
Voiceover:In 1899, the misty ridges of Northwestern North Carolina became home to a simple, yet powerful vision: to transform lives and the region through the empowerment of education. Nearly 120 years later, students still feel the pull of this unique place, and Appalachian has remained grounded in the vision of our Founders, providing rural access to a sterling education and serving the region.
The Mountaineer passion for lifelong learning is cultivated from an early age. Right now, Appalachian's youngest Mountaineers are developing critical learning skills while also discovering that college is in their future. And when they are ready, their "college on the mountain" will be ready for them…
Tasha Hall-Powell:So, the children that go to school here at the academy are from all across Forsyth county, particularly children who may be struggling readers. Our goal is to improve literacy for all students K-5, to work with them, bring in the curriculum through Appalachian State University and reading clinic, and support learning across all disciplines.
Amie Snow:The experience for a University student here at Middle Fork is really critical. We're able to show them what their practice that they're learning in the classroom, looks like in action. So, now we have this community of learners that aren't just little kindergarten through fifth grade students, but we also have teachers who are learning together with them and they really are building a community that the academy is really proud to be a part of.
Melissa Boyd:So, I've been teaching for 31 years, and one of the questions people always ask me is, "Why are you still doing this? Why aren't you retired?" And my answer to them is, "Because we finally got it right!" These children are getting to interact with university professors. They are now identifying with Appalachian, they are saying "That's my college. I'm going to go to that college on the mountain," and they're very excited about that. And so now these are children who could be first-generation college students, and they're already thinking about it and identifying as college students.
Tasha Hall-Powell:I love being here. I love being at the academy because this is like, one of the best opportunities that a principal can have. I mean the amount of support that I've had as a principal, I, it's just overwhelming and I just like being a voice for children and to be a partner with the parents and a partner on behalf of App State University. This is what I love doing, so I'm very thankful.
Voiceover:Some of the state's brightest high school students are already learning from Appalachian faculty through a robust summer academic camp portfolio. As the North Carolina School of Science and Math develops their Morganton campus, Appalachian faculty and staff are advising on sustainability initiatives and curriculum, and once open, will be a key resource for the Western campus…
Todd Roberts:Yeah, Appalachian State has been a decades-long partner with NCSSM. One of the things that we try to do at NCSSM is to give students opportunities for real-world learning and that happens, can happen some on campus, but often happens off campus and so one of the great opportunities is to tie in what universities in that part of North Carolina have as real areas of focus for themselves. So, Appalachian State is a great example, where renewable energy and sustainability, they have just been a leader in that area and so we're going to hopefully benefit from a partnership and collaboration with faculty, where our students may be going to Appalachian State to participate in activities and where faculty and students from Appalachian State may be coming to the campus in Morganton to work with students on a variety of different types of research opportunities, internships, where they can apply what they're learning in the classroom out in settings, whether it be in labs or businesses or other real-world types of experiences.
Voiceover:As the University of North Carolina continues to expand signature educational opportunities in Western North Carolina, Appalachian's contribution to this effort is an Innovation Campus, which will enhance curriculum while delivering a profound impact on the region's economic development.
Located at the edge of a 65-acre nature preserve, the Innovation Campus will provide a vital link between the university and the regional community through education, research and outreach. As the Innovation Campus develops, it will provide a vital and dynamic space where students and faculty will work together with industry partners in specialized areas that capitalize on Appalachian's strengths and regional identity. Collaborations across colleges and disciplines will prepare students for career progression in a dynamic work environment. Nearly 120 years after the Dougherty Brothers set forth on their ambitious plan, Appalachian's pioneering vision is bolder than ever.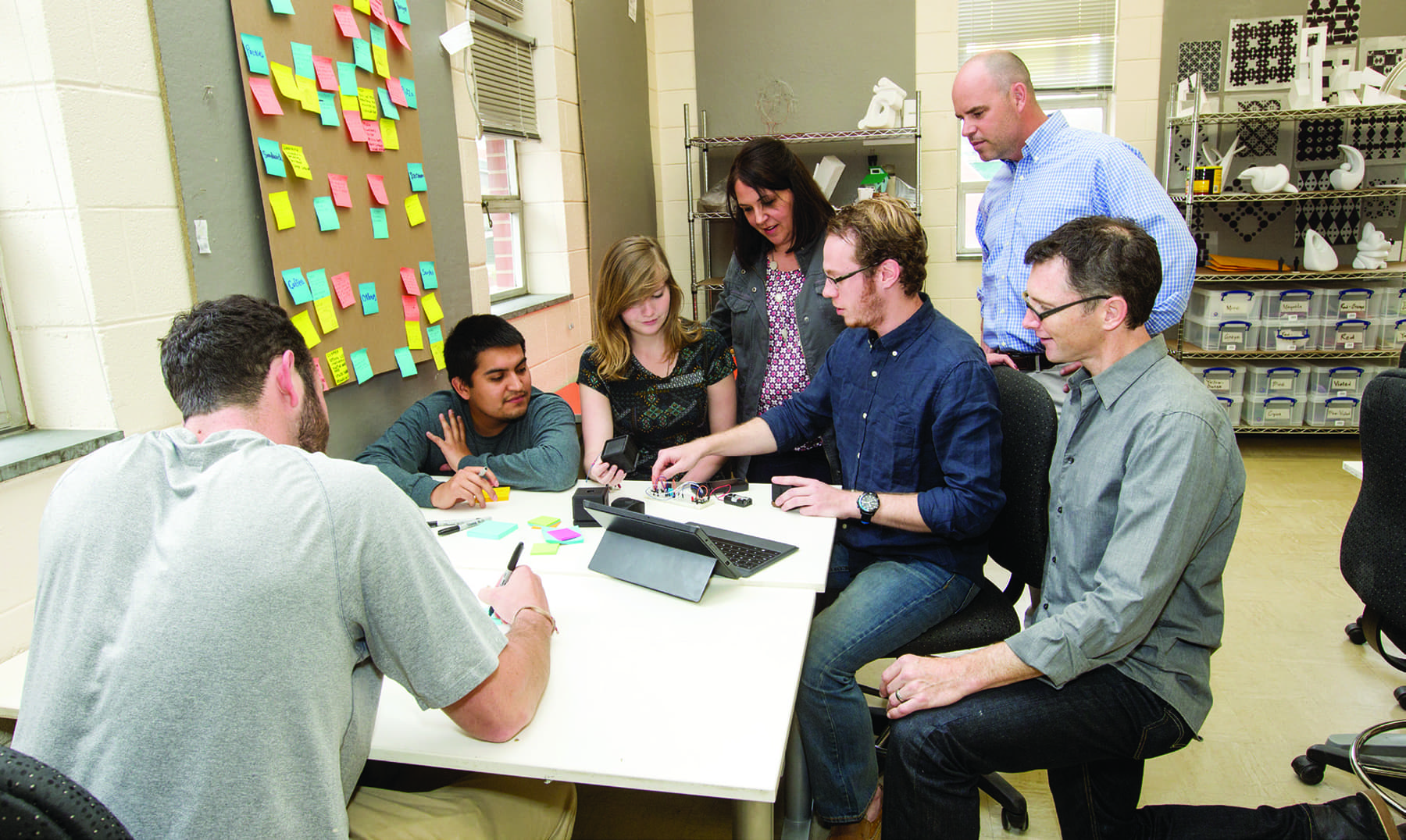 Collaboration, both on campus and with the community, will be a primary emphasis of the Innovation Campus. Photo by Marie Freeman