The Boy Family of Sullivan County, Tennessee
A Web page for the Boy and Boye families that settled in Bluff City, Tennessee and surrounding areas in the 1790s.
by Dr. Gary R. Boye
If your last name is Boy and you have family in the Sullivan County area of eastern Tennessee, you are almost definitely a descendant of Jacob Boy (1752-1833), who moved into the area around 1790. Many members of the Boy family still live in the area and the annual Boy Family Reunion is well attended by people from around the country. Some members of the Boy family--mine included--added an "e" to the last name in the early 1900s.
---
The "Old Home Place" in Bluff City, circa 1907: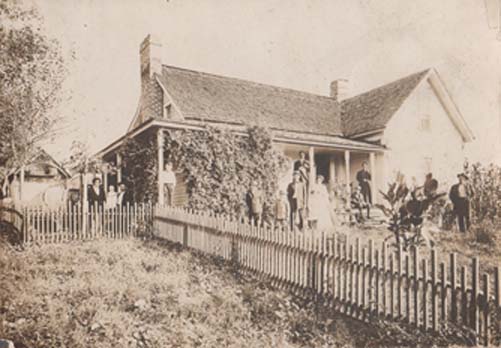 This house was built by my great-grandfather, John Aiken Boy, and still stands on land owned by the family. John Aiken Boy is the man standing on the far right of the photograph.
---
Our Patriarch: Jacob Boy [Buch], 1752-1833:
The First Member of the Boy Family in Tennessee.
Jacob Boy was born in York County, Pennsylvania on April 17, 1752. He moved to Northern Virginia and started a family sometime prior to the Revolutionary War. Jacob served in the Virginia Militia during the War and fought at Guilford Courthouse, in North Carolina, and several later battles in South Carolina, including those at Ninety-Six and Eutaw Springs.
Following the War, Jacob purchased land in what became eastern Tennessee, on the Holston River near present-day Bluff City in Sullivan County. It was there he settled to raise his second family . . . and there that his descendants have lived ever since.
Jacob Boy's Children


Jacob was married twice. We know almost nothing about his first wife--not even her name--but we can assume that they married when he was living in Virginia and that she died before he came to Tennessee. She left Jacob two children, Adam and Catharine ("Katie"), who accompanied him to Sullivan County. He remarried in 1796 to Mary ("Molly") Drummond. He had seven children from the second marriage, listed below . . .


Children of first marriage:
| | | |
| --- | --- | --- |
| | Born | Died |
| Adam | Virginia, c.1770-1772 | ? |
| Catharine ("Katie" or "Caty") | Virginia, c. 1780 | Washington County AR, 9/11/1874 |
Children of second marriage--wife: Mary Drummond
| | | |
| --- | --- | --- |
| | Born | Died |
| Andrew | Sullivan County TN, 2/15/1796 | Sullivan County TN, c. 1870 |
| Elizabeth | Sullivan County TN, 8/1/1798 | Sullivan County TN, 9/7/1876 |
| Winifred ("Winny") | Sullivan County TN, 2/8/1800 | Sullivan County TN, 7/25/1873 |
| Sarah A. ("Sally") | Sullivan County TN, 1/1803 | Scott County VA, 3/12/1894 |
| Nancy Ann | Sullivan County TN, 1806 | ? |
| Jacob Jr. | Sullivan County TN, 1808 | Sullivan County TN, 11/28/1892 |
| George | Sullivan County TN, 1812 | c. 1855 |
---
---
STILL WORKING . . .
As with any Web page, I will be constantly updating this site and adding more information, more photos, and making it easier to read and use. If you have any information you would like to contribute--especially older family photos--or would like to learn more about the family or the family reunion, please contact me at boyegr@appstate.edu.
**Note that I am sensitive to the fact that some people may not want their family information on the Web, so for the present I'm limiting most of my information to earlier members of the family who are no longer living. Please contact me if you wish anything to be removed from the page.
---
SAMPLE PHOTOS . . .
I will be organizing the page by generation and including more information in the future. In the meantime, I've placed a few items of interest in the Photo Album . . .
---
A WORD OF THANKS . . .
Much of the research on this page was compiled by others and I am greatly in their debt. I rely especially on the work of Robert Alison Boy and Charles A. Boye, Jr. In addition, I would like to thank Wilma Boy, Jim Godfrey, Eddie Morrell, Joyce Boy Hamilton, Sally Peterson, and all of the family members and friends at the Boy Family Reunion in Bluff City, Tennessee.