Payment Schedule
Payment schedule will be as follows.
$300 - Non-refundable deposit at time of enrollment to the Office of International Education and Development
$1200 - Due: January 15th, 2023
$1200 - Due: February 29th, 2023
$1250 - Due: March 31st, 2023
Credits
This course is offered with a total of six (6) credits. Four (4) of them are GLY-1103 or GLY 2500 credits and two (2) optional HPC-2545 Leadership and Expedition Support credits. The optional HPC credits will involve additional work, evaluations, and outside reading. Weekly pre-departure lectures and workshops will be held at a time (TBD) from March through the end of the semester.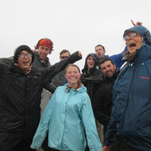 Signing Up
All students wishing to sign up need to speak directly with Brian Zimmer in Rankin Science South 109 before registering. Once registered, you can secure your spot on the trip by paying your $300 deposit. Once 7 deposits have been paid, the course closes. Details on registering here.
*Program dates are tentative. Appalachian reserves the right to cancel or alter the program format in case of conditions beyond the university's control. The program cost is subject to change pending currency rate fluctuations and the number of program participants.
Current weather in Iceland
Webcams around Iceland