What's your sport? Whether you're a student-athlete, a Mountaineers fan, an outdoor enthusiast, looking to play for fun, wanting to get or keep fit or any or all of the above, Appalachian has plenty to offer!
Tickets
Appalachian State Athletics charges admission for football, men's basketball, women's basketball and baseball. All other sporting events are free of charge and open to the public. Currently enrolled students receive complimentary tickets, and need to print their tickets for football and men's basketball games.
Plan your visit
Get your App Gear
Shop the official Appalachian State Athletics Store for the latest, most in-demand App State merchandise.
Upcoming Games
Find game schedules and results.
Fan Zone
Find photo galleries, desktop and mobile phone wallpaper, history of Yosef and more.
Join the Yosef Club
Provide student-athletes with the resources to further their education while pursuing their athletic dreams, Yosef Club members receive tangible benefits as well.
App State Wins Sun Belt Graduation Rate Award
Appalachian State University athletics has twice collected one of the Sun Belt Conference's most prestigious honors (2015 and 2017) by winning the Sun Belt's Institutional Graduation Rate Award.
Chancellor Everts on Sun Belt Celebration Day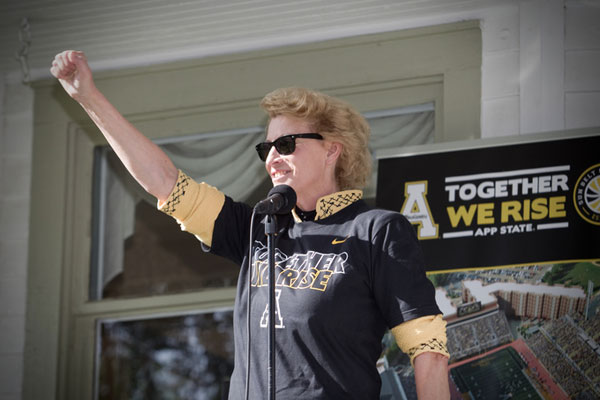 Chancellor Everts' comments from Sun Belt Celebration Day
Follow App State Sports
Appalachian State Athletics Social Media
Watch and Listen Online