Appalachian tracks where its graduates go, notes high success rate
By Linda Coutant
Whether graduates seek immediate employment or an advanced degree, their experience at Appalachian State University gets them where they want to go at a high rate of success.
According to Appalachian's Career Development Center, 86 percent of 2015-16 undergraduate students and 93 percent of graduate students were either employed or enrolled in postsecondary education within a year of graduation. *
The first destination data was collected up to one year following graduation using a variety of sources, said Dr. Susan McCracken, director of career development and economic engagement. These sources included a senior survey, the National Student Clearinghouse that tracks postsecondary enrollment, LinkedIn professional networking service, the university's Alumni Affairs office and faculty surveys.
Employers and graduate schools welcome Appalachian graduates for many of the same reasons, according to McCracken: they are driven, well prepared and possess a strong work ethic.
"I also believe that the research experiences our students have working directly with faculty in laboratories and in the field — collecting and analyzing data firsthand, and then presenting their findings to faculty, graduate students, professionals in that field and peers — prepares them to hit the ground running in a graduate program, or as a new hire," McCracken said.
Also, more than 7,600 students in 2017-18 earned academic credit for an internship, practicum, clinical experience or student teaching, which gave them on-site work experience.
* With a tracking rate of 86 percent undergraduate and 71 percent graduate students. Data collection was a collaborative effort among the university's Office of Institutional Research, Assessment and Planning, degree-granting colleges and Division of University Advancement.
Success stories
Learn about the success of some of Appalachian's recent graduates:
Read more alumni profiles on Appalachian's degree webpages.
Career Development
Center stats
7 career fairs each year
500+ employer visits
2,398 individual career counseling sessions in 2017-18
971 career assessments in 2017-18
94% of students surveyed agreed or strongly agreed that their appointments in career exploration helped them determine their major
Career exploration and professional development
On-campus student employment for gaining work experience and transferable skills.
Assessment and counseling to assist students in selecting career paths aligned with their interests and skills.
Internship and job seeking guidance for writing resumes and cover letters, learning successful interview skills, and finding internships and full-time employment.
Learn more at careers.appstate.edu >>
Life and Career Success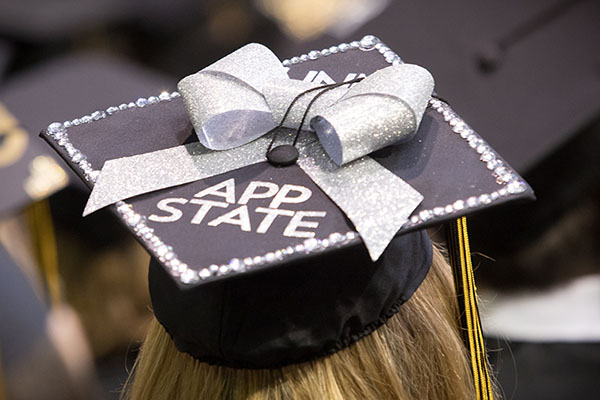 Where can an Appalachian degree take you? Anywhere you want to go! Appalachian generates passionate and engaged alumni, who become leaders in their communities and chosen professions. They exemplify how an Appalachian education can and does make the world a better place. Read more alumni success stories >>