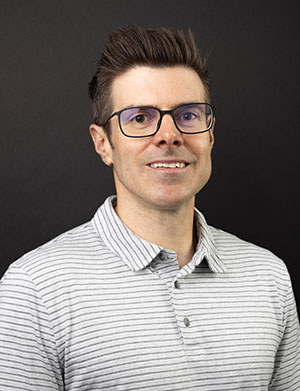 Scott T. Marshall
Associate Professor


111 Rankin Science South
Department of Geology
Appalachian State University
572 Rivers Street
Boone, NC 28608

Email: marshallst<at>appstate<dot>edu
Phone: 828-265-8680

For more information, view my CV

Research Interests
Geophysics || Fracture Mechanics || Geodesy || Tectonophysics
My research combines geology with fundamentals of physics, mathematics, and computer science to learn about how the Earth deforms in response to tectonic stresses. Earthquake-generating faults follow physical laws that can be quantified and mathematically modeled, consequently much of my recent research has focused on creating 3D mechanical models of the most complex portions of southern California including the Los Angeles and Ventura Basins. I also use modern satellite geodesy techniques including GPS and InSAR to measure defomation of the surface of the Earth.
Because this type of work is quantitative and involves processing very large data sets, computer programming is a key component to my research. If you are a student and this type of research sounds interesting, please see my student opportunities page. Check out my research page for more details about my recent and ongoing projects.
Is this work useful to society?
Understanding surface deformation and fracture mechanics is not only of academic interest. For example, fracture mechanics and satellite-based surface deformation studies are commonly used to better understand numerous problems of societal interest including:
Earthquake hazards / Earthquake potential
Flow of fluids (water/oil/gas/fracking fluids) in the subsurface
The viability of peteroleum reservoirs
Safety of Dams and other engineered structures
Failures related to sinkholes, mine collapses, etc...
Volcano activity and predictions of volcanic eruptions
Monitoring and prediction of landslides and other land movements
Recent Happenings
Updated As Interesting Things Happen
04.11.2014

My little girl, Nora, is now 1! It seems like not long ago that she was just born, but I guess time flies when you are having fun. Happy Birthday to Nora.
03.07.2014

Along with collaborators at the University of Massachusetts, we have a new paper out in the Journal of Geophysical Research. In the paper, we show that changes in fault connectivity can change surface slip distributions significantly, but are unlikely to significantly affect interseismic deformation patterns. This implies that it is possible to fit interseismic geodetic data well using an inaccurate fault model. Yikes!
08.25.2013

At 3:50:40 PM EST, a M2.9 earthquake occurred between Blowing Rock and Boone, NC. Typically, events this small are not felt, or only barely felt by people, but this event was widely felt throughout the high country. I was in my office at the time and definitely felt it! Sarah Carmichael and I put together a website that covers many of the frequently asked questions about the earthquake as well as general questions about earthquakes in the eastern US. Click on the image above for an animation of the seisomgrams from the South Carolina Seismic Network seismic stations on Aug 25th, or click here for a link to a static image of the seismogram from station PAULI, located in Pauline, SC. The seismograms were downloaded on Aug 25th 2013 from here.
08.20.2013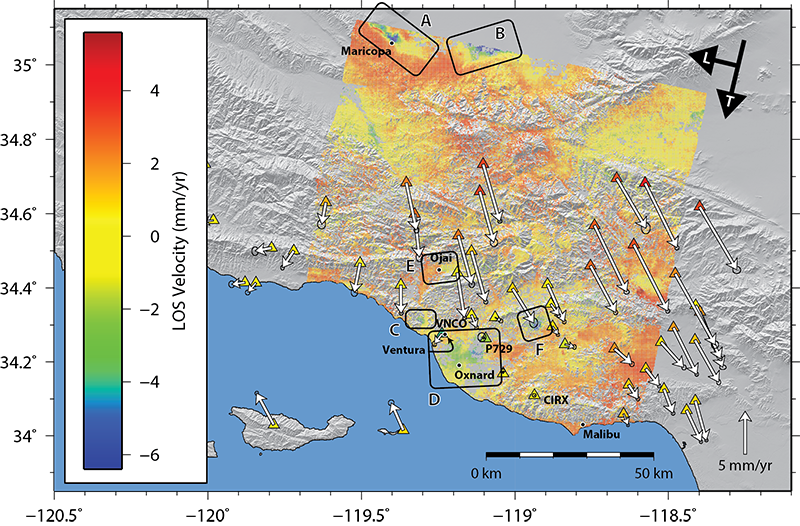 My collaborators and I have a new paper out in the Journal of Geophysical Research titled "Fault slip rates and interseismic deformation in the western Transverse Ranges, CA." The paper presents the GPS & InSAR data, deformation rates, and models of fault slip rates throughout a tectonically-complex region of southern California. We won't claim to answer all of the regional questions, but we do highlight the main issues in the region and what kinds of models fit and don't fit the geodetic and geologic data. For more information, see my publications page, my Transverse Ranges geodesy page, or my Ventura fault models page.
06.12.2013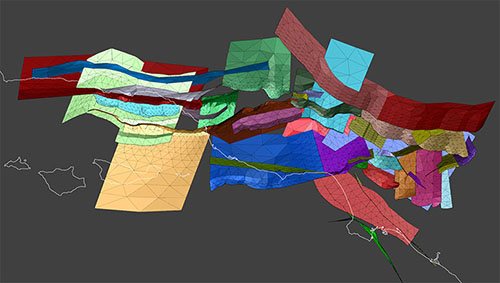 I have finished a massive web update. This includes significant additions to my research and student opportunities pages. I now have a separate page just for 3D PDF's of southern California faults.
05.24.2013


I am updating my web content with more recent research, student work, and other improvements. So stay tuned.
04.11.2013

I'm a dad!!! Nora Nicole Marshall was born today at 9:43PM. She weighed 6lbs 13oz and was 18" long. Karen and I are very excited to be parents. So far Nora is a very calm and well-behaved baby. Let's hope that continues!
05.04.2012
Poster-sized earthquake epicenter maps are now available for download in the student opportunities section. The maps are all 42" in their smallest dimension, so they will print nicely on a 42" plotter. I have downsampled the DEM data to make the file sizes considerably smaller than the original postings. Feel free to download the maps and distribute to anyone that may be interested, but please provide the proper attribution. They make great teaching tools!
I currently have three maps available for download:



Eastern United States Earthquakes 1972-2012



Northern California Seismicity 1984-2003



Southern California Seismicity 1981-2005

08.23.2011
Earthquake in Virginia!! We felt it here in Boone. I posted a Q&A page with some commonly asked questions and my responses on our department webpage. The university news folks also interviewed me and posted an article about the earthquake.
08.22.2011
I have added a description of my work with Julia Irizarry, a undergraduate student in the department of geology. Julia is using mathematical models to determine if the 1994 M6.7 Northridge could have triggered aseismic slip on the San Andreas fault. Check it out!
10.05.2010
I have added a description of my work with Bevin Bailey, a undergraduate student in the department of geology. Bevin is using several near-surface field geophysical techniques to characterize the subsurface geology along the south fork of the New River. Her geophysical data will be complimented by data from nearby boreholes. Check it out!
05.20.2010
I have added a description of my work with Anna Morris, a graduate student in the department of physics. We are modeling the mechanics of non-planar wavy fault surfaces. Check it out!
05.10.2009
I posted large-format maps of California seismicity on my student opportunities page. The maps were made by GLY undergraduate student, Collin Ferebee. The files are rather large, but the maps are fantastic. Check them out!
10.01.2008
If you have any general website suggestions, or if you find things that don't work, email me!