Excellence in teaching, research and service.
Our Mission
Appalachian State University, a constituent member of the University of North Carolina System sustained by the generous support of North Carolinians, is a long-established public institution that honors our founding commitment to educational access and excellence and our rural mountain heritage through teaching, research and service.
The university's vibrant culture shapes students into globally minded, responsible members of society who engage with and actively contribute to their communities.
Our exemplary faculty and staff prepare students in bachelor's, master's and professional doctoral programs to be the leaders of the future.
Our Vision
Appalachian State University aspires to strengthen its role as a leading public institution in the Southeast. We commit to empowering learners through innovative academic programs accompanied by experiences that take place beyond the classroom, excellence and equity in all our activities, and the cultivation of scholarship, engagement and creativity.
Our Essential Character and Core Values
Founded in the Blue Ridge Mountains in 1899 to provide North Carolinians expanded access to education, Appalachian State University is located in a place of great beauty, cultural heritage and recreational opportunity. App State's core values include:
Faculty excellence in teaching and all forms of scholarship.
Diversity, equity and inclusion.
Sustainability and resilience.
Public service and engagement with community.
Global perspective.
Our Statement of Sustainability
Sustainability at Appalachian State University is not a trend, it is a tradition. We are active stewards of our state's interconnected financial, cultural and natural resources. Through engaged scholarship, we balance critical, creative and global thinking in a living laboratory, transforming theory into practice and fostering responsible citizenship.
Reflections on the App State Experience
Joseph Bathanti, McFarlane Family Distinguished Professor in Interdisciplinary Education and Professor of Creative Writing
North Carolina Poet Laureate (2012-2014)
At Appalachian State University — inspired and nurtured by the magnificent mountain chain and vast ecosystem of biodiversity surrounding it — sustainability and community are synonymous; living, intellect, and social conscience are seamless.
In the pluralistic tradition of John Dewey, App State students learn to fully engage daily in the ever-unfolding adventure that embodies a truly holistic education arrived at intentionally through inquiry, dialogue, and field work; and calibrated to the challenges and demands of an ever-changing world. App State students study, and apprentice in, the practices that will illuminate their paths for the rest of their lives, as well as the paths of those with whom they come in contact — at local, state, national and global levels.
Guided by a nationally prominent faculty that approaches teaching as a vocation, that cares profoundly about its students in and out of the classroom, App State students are not merely educated, but transformed, their instincts disciplined in profoundly human and humane ways. Through a broad, inclusive array of scholarship, pedagogy, service, cultural opportunities and extracurricular involvement, they discover that, in addition to keen intellects, capacious hearts and souls are the engines of inner fulfillment, judicious action and righteous advocacy. App State faculty model discriminative minds, physical and emotional wellness, and a dedicated work ethic. They respond to sensitive timely issues, that by necessity validate a democratic education, through discourse leavened with courage, compassion, an appetite for measured intellectual risk, and steadfast moral compasses. Their impact upon the lives of their students is pervasive and lasting.
In this spirit of shared humanity, communal concern, and stewardship of the natural world, App State champions diversity and interdisciplinarity, solidarity through reconciliation, and moving boldly forward into the 21st century. The quest to enhance the life of the planet and its citizenry must always be imaginative, always collaborative, and innovatively cross-curricular — with an unlimited threshold to embrace and adapt to difference. That challenge must necessarily be taken up by Sciences and Technologies, by the Arts, Humanities and Social Sciences. Imagination, on the App State campus, is in ample supply — among faculty, staff, and students alike with vigorous support and leadership from its administration. Our students are encouraged to dream prodigiously.
When App State graduates reminisce about the glories of what happened during their stays on this campus, they do not bring up money or material wealth — though App State has supplied them with an incomparable education and a degree from a stellar university that stands them in good stead intellectually, and remains the prime engine for their creature comforts. But, rather, they reflect upon something much more important: the "place" that is Appalachian State University — a place invested with a kind of mysticism, certainly mystery and wonder, a portal that opened to them at a key moment in their lives, beyond which was revealed to them the limitless possibilities for a fully realized, purposefully committed, happy life, and the fact that the human spirit, in all of its guises, is inextinguishable. Appalachian State University has never been just a college, but a rare place where students, and faculty alike, the entire university community, are not only educated and sustained, but transformed.
Strategic Plan 2022-2027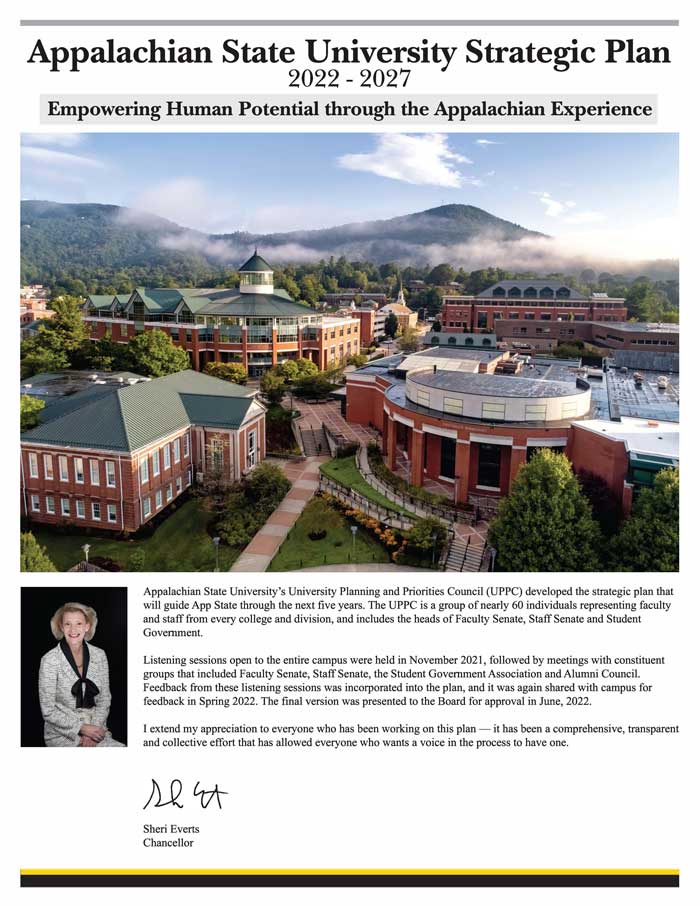 What does the future hold for App State? Read the university's strategic plan for 2022-2027, titled "Empowering Human Potential through the Appalachian Experience," to learn more about the six strategic priorities that will guide App State through the next five years.