The Chancellor's Innovation Scholars Program supports research and practice related to the Innovation of Higher Education. Appalachian faculty and staff from all disciplines and program areas are eligible for support.
The program supports interdisciplinary teams of faculty and staff thought leaders who are working creatively and entrepreneurially to:
Address challenges facing higher education;
Create lasting institutional change;
Provide community and societal benefits;
Establish opportunities that increase student engagement; and
Promote broad-based sustainability.
The Chancellor's Innovation Scholars Program is intended to complement other innovation initiatives at the university, such as those offered through RIEEE, the Office of Sustainability, the Office of Research, AppLab, IDEXlab, and others. All projects must engage Appalachian State students.
Basic Grant Information
Each interdisciplinary Innovation Scholars team may receive support of up to $10,000. While there is a strong emphasis on projects completed within one year, applications will be considered for a two-year support cycle. Applicants whose grants require an expense of more than $5,000 within one semester are asked to address this in their application. Projects, approaches and results might include, but are not limited to:
Research that leads to innovative thought across disciplines;
The development of new classes or teaching strategies;
Innovative campus events that enable interdisciplinary student learning;
Student engagement experiences that build community and enable creative solutions;
Initiatives that address a campus, community, or societal challenge; and/or
Partnerships with town, county, state, national or international partners.
Projects that support or connect university strategic initiatives are welcome. These initiatives include: sustainability in the areas of the environment, energy, and economics; diversity and inclusion; student research; global learning; wellness and safety; and community and civic engagement.
Funding Parameters
These internal grants are intended to provide maximum flexibility in funding to support a diversity of faculty and staff concepts and approaches related to the Innovation of Higher Education; therefore, the funding may be applied specifically to support expenses related to each unique project. Examples of possible use of these funds are: purchase of equipment, software, research materials and print/electronic publications; travel directly associated with the project activity; upon approval of the Department Chair and prior to the scheduling deadline for the applicable semester - one course buy-out per semester, and; hiring student assistants. Grant funds can also be requested for supplemental salary for grant recipients, either as summer salary or as supplemental pay during the regular academic year. Salary payments are subject to taxes and other withholding and are governed by the university's supplemental pay policy. Grant funds are not intended as seed money for pure research.
All awarded project teams must submit a final report on their funded work. This report is to be in the form of a 20-minute presentation. All teams will present their work at a special event following the conclusion of the grant period.
Contact Information
For questions about this program or the application process, please contact Ece Karatan (karatane@appstate.edu) or Mark Ginn (ginnmc@appstate.edu).
Application and Review
Applications, which include a narrative of the project and detailed budget with justification, are due by Monday, February 21, 2022 and will be reviewed by a committee of faculty and staff.
Review process
Please address the following review criteria in your project narrative:
Significance

Does the proposed innovation address a meaningful problem in Higher Education?
Does the proposed innovation provide creative and original solutions?
Does the proposed innovation have the potential to contribute to the transformation of Higher Education?

Approach

Is the action plan (strategy for developing, designing, implementing, testing, marketing, etc. the innovation) well-reasoned?
Are appropriate benchmarks for progress or success provided?
Will the interdisciplinary team have a reasonable opportunity to reach their goals and objectives within the funding period?

Societal Benefit

Does the proposed innovation have the potential to expand collaborations among university faculty, staff, and students and community and/or industry stakeholders?
Does the proposed innovation have the potential to expand Appalachian's leadership in integrating sustainability in Higher Education?
Recommendations for support are provided to Academic Affairs and the Office of the Chancellor. Scholars will be notified of selection by March 18, 2022. The Office of Academic Affairs will work with award recipients to order equipment and supplies, coordinate travel, and report expenses. Award recipients are required to complete a final report and participate in public presentations of ongoing and completed work.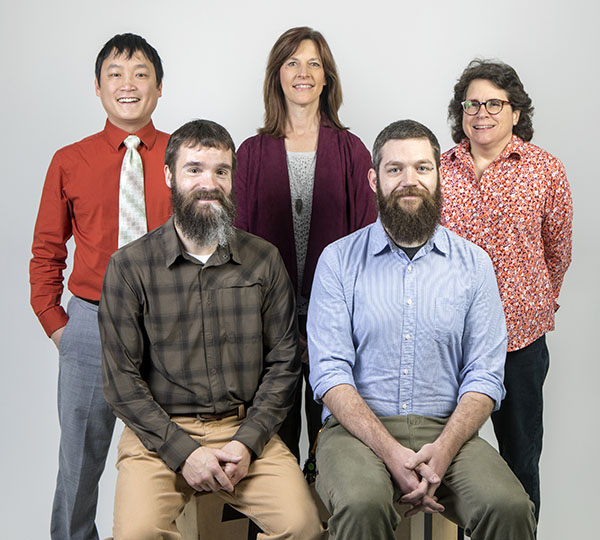 Innovation Appalachian
Bold - Optimistic - Pioneering - Sustainable
Appalachian's pioneering spirit combines with core values of scholarly excellence, leadership and service to create a peak environment where innovation connects our strategic plan and academic mission for the greater good of our community and world. Our strengths in broad-based sustainability, focusing on economics, the environment and equity, provide trail markers for research, innovation and collaboration. At Appalachian, it's not enough to change the world…we want to change it for the better. Our academic mission is to prepare students to lead purposeful lives as engaged global citizens who understand their responsibilities in creating a sustainable future for all.
Our success is found in our response to this question:
How do we engage our academic mission through teaching, learning, service, research, innovation, creativity and intercampus and intercommunity collaborations in all disciplines to support the understanding and development of economically, environmentally and equitably sound communities?
Appalachian is building upon faculty and staff expertise, student passion and creativity, as well as existing and developing programs to engage our campus and community in innovative thought leadership to create a bright future for our region, state and world.
Contact
Mark Ginn
Vice Provost for Undergraduate Education
ginnmc@appstate.edu
Ece Karatan
Vice Provost for Research
karatane@appstate.edu