Welcome!
"What I have taken away from this program is more than just sights and information. It's a feeling of accomplishment. A feeling of being a part of something."**
This site contains information about the Appalachian State University "Theatre in Europe, Past and Present" study abroad program which is led by Theatre & Dance professors Paulette Marty and Sue Williams. The next program is tentatively planned for three weeks in mid May and early June 2014 (pending program approval).
Please visit the links above to learn more.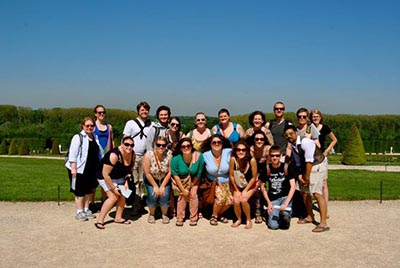 2012 Participants at Versailles Palace in France
Front Row: Traci Bryant, Allison Shaw, Kayla Gahagan, Emily Candelario, Colleen Longo, Virginia Parker, Jake Dailey, TJ Scott
Back Row: Sue Williams, Melanie Miller, Jon Greene, Victor Rivera, Kellie Letner, Shelby Lingerfelt, Katie Hickling, Paulette Marty,
Tyler Gibson, Brett Stafford, Caroline Reid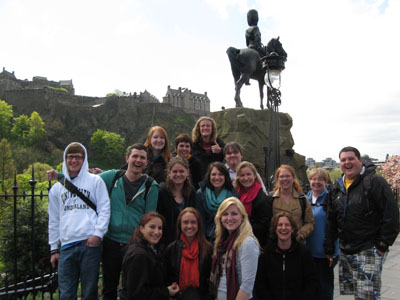 2010 Participants at Edinburgh Castle in Scotland
Front Row: Amy Fine, Carlyn Holland, Stephanie Grasso, Paulette Marty
Second Row: LB Brown, Will Gwyn, Liz Anderson, Lauren Flynn, Hannah Fuller, Erika Hogan, Sue Williams, LJ Kennedy
Back Row: Allison Collins, Kelley Hayward, Josh Warthen, Joe Rollins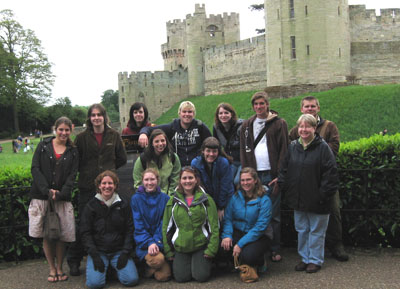 2008 Participants at Warwick Castle in England
Kneeling: Paulette Marty, Kate Bakewell, Christina Hardin, Laura Williams
Crouching: Ashley Childers, Kat Chaffin
Standing: Audra LaMontagne, James Houston, Brandy Cantrell, Brian Seagroves,
Amy Stein, Jordan Westra, James Ward, Sue Williams
**All quotes in peach are from the journals of students who have participated in the program