Key terms involved in the growth of Appalachian State University may be unfamiliar or confusing. Below is a short glossary to help you understand campus growth and the types of funding that make it possible.
Master Plan 2025
The final document created by Duda | Paine Architects, a consulting firm hired by Appalachian to develop a guide for the physical development of campus over the next 20 years. Master Plan 2025 offers recommendations for improving campus in support of Appalachian's strategic plan, "The Appalachian Experience: Envisioning a just and sustainable future."
The Master Plan 2025 was approved by Appalachian's Board of Trustees on March 24, 2017. The 192-page plan is a living document, subject to changes related to available funding, changing campus and community needs and emerging opportunities. Appalachian is proceeding with eight projects considered the highest priorities.
Related Links:
Millennial Campus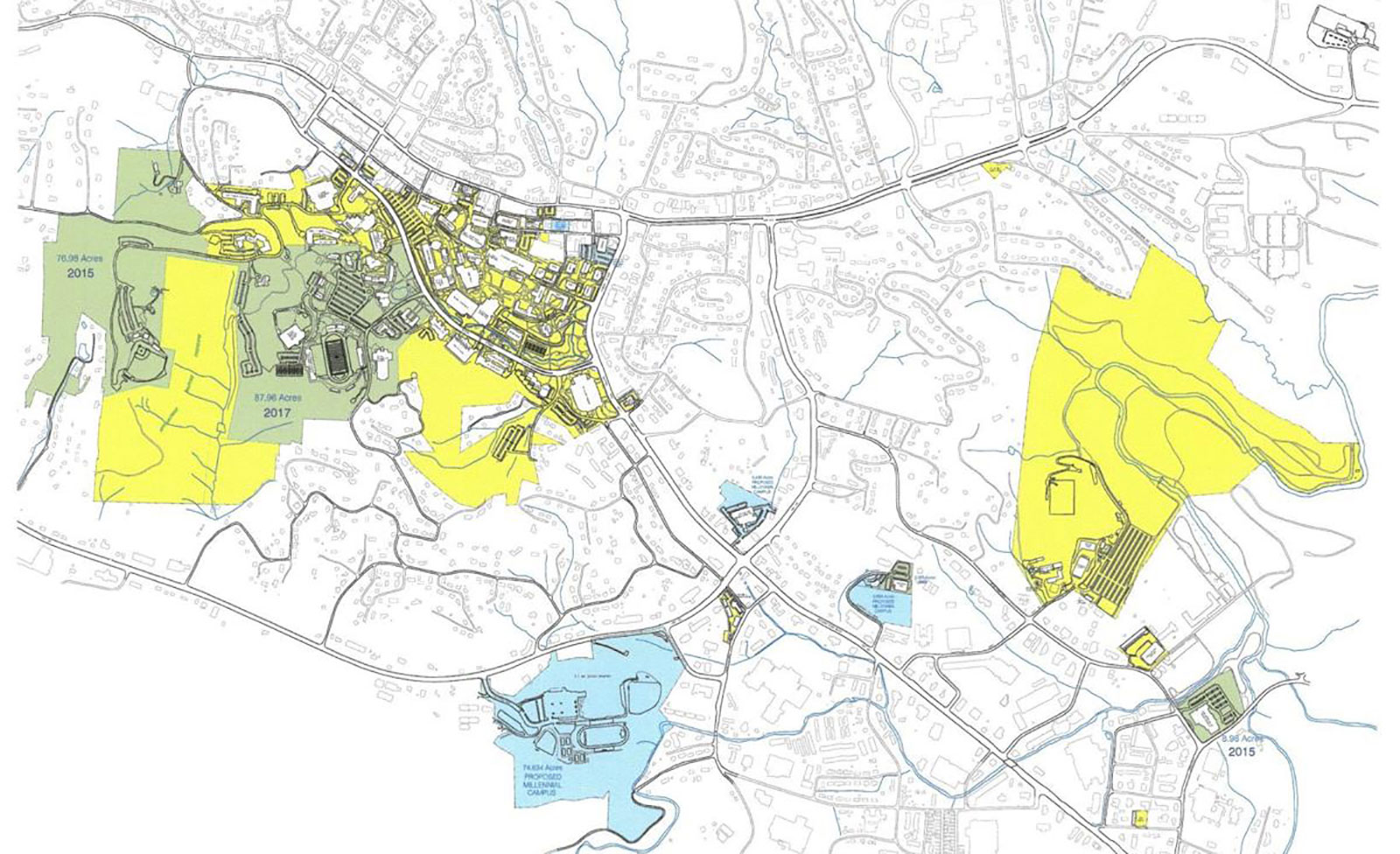 On this map presented to Appalachian's Board of Trustees in June 2018, yellow represents campus property, with green areas representing existing millennial campus designation. The blue areas represent the proposed additional millennial campus sites.


According to the state's Millennial Campus Act enacted in 2000, the UNC System Board of Governors can designate property as "millennial campus" to enhance an institution's research, teaching and service missions, as well as the economic development of the region served by the institution.
Appalachian first received millennial campus designation in 2002 for the 2.3-acre tract of land where University Hall is located off Blowing Rock Road. In 2015, the Board of Governors granted millennial campus designation for approximately 77 acres that included the former Broyhill Inn property off Bodenheimer Drive and its adjacent tracks, and the 8.9-acre site of the future Beaver College of Health Sciences building on State Farm Road.
In fall 2016, the Board of Governors approved millennial campus designation at the 87.96-acre area incorporating Kidd Brewer Stadium and a number of west campus residence halls (see Current Projects page for details).
Campus leaders have said millennial campus designation gives Appalachian the flexibility to enter into agreements with private sector firms to develop the properties, facilitates issuing bonds to finance development, and allows the university to keep all revenues related to leasing space in the properties, which is critical to further developing the property. For example, a portion of University Hall has been leased to Wake Forest University Baptist Medical Center since 2013 for its physician assistants program.
In June 2018, the university received permission from its Board of Trustees to seek millennial campus designation from the UNC System Board of Governors for five more sites on a total of approximately 90 acres:
The former Watauga High School property on Highway 105, consisting of 75 acres.
The on-campus site of Legends nightclub, consisting of approximately 2 acres.
The approximately half-acre Howard Street property.
Appalachian Panhellenic Hall, consisting of approximately 5.5 acres.
An expansion of the existing Millennial Campus site at University Hall, consisting of approximately 6.7 acres.
Chancellor Sheri Everts has said projects on millennial campus-designated property present opportunities for Appalachian "to think and act more creatively, quickly and nimbly."
Public-private partnerships, or "P3"
A public-private partnership, often referred to as a P3, is defined by the National Council for Public Private Partnerships (NCPPP) as a contractual relationship between the public and private sectors for the execution of a project or service for use by the general public. Each party shares resources and the potential risks and rewards associated with the project.
The U.S. has seen a surge in planned P3 projects following the global financial crisis of 2007–08, according to NCPPP.
A May 2018 article in The Chronicle of Higher Education reported more and more colleges and universities are considering P3s as a way to upgrade and replace aging facilities to remain competitive. A typical P3 agreement involves a private developer providing capital and construction services on campus property, leasing the building to the college or university for a number of years, and then reverting ownership to the institution.
The benefits of a P3 in remaking a campus, according to The Chronicle of Higher Education article:
Speed.
Scale.
Efficiency.
Lower cost.
Using the public-private partnership model for residence halls would deliver additional value and savings to the university, reduce the time frame for project delivery and result in lower student rental rates.
For example, the estimated cost for Appalachian to self-develop the residence halls project would cost $97,905 per bed, versus $70,723 per bed using a public-private partnership, according to a May 2018 presentation to Appalachian's Board of Trustees.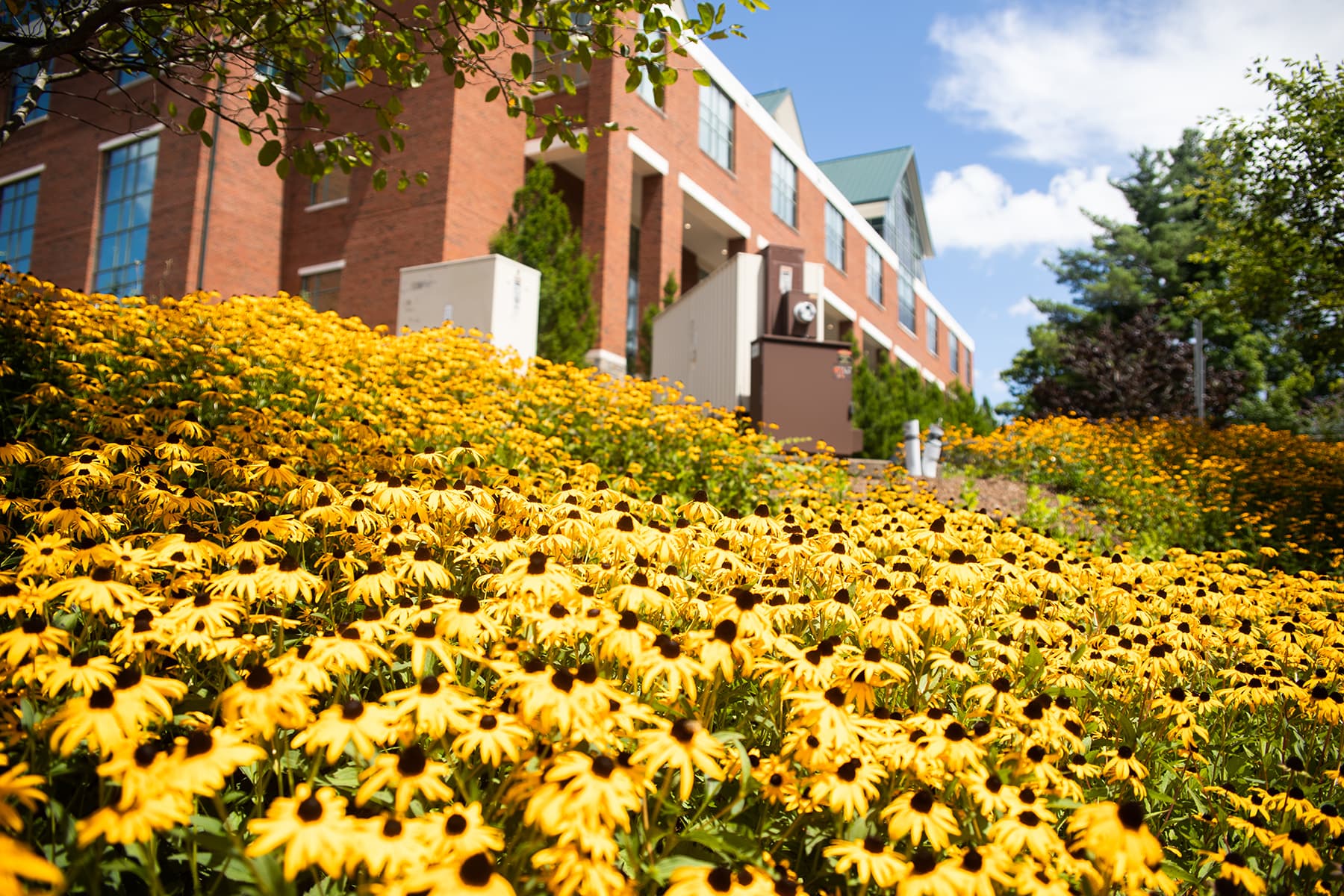 Black-eyed Susans, the official flower of Appalachian State University, near Belk Library and Information Commons. Photo by Marie Freeman