Construction progress on App State's New River Hall as of April 25, 2022. This photo shows the side of the residence hall that faces Stadium Drive. Click on the image for a full view. Photo by Chase Reynolds
New residence halls are among several major construction projects underway at Appalachian State University to enhance the App State Experience.
The project supports the strategic plan of App State and the university's goals and metrics associated with the University of North Carolina System's strategic plan. It will benefit students, academics and the community.
About
This major housing project will replace seven residence halls: Bowie, Coltrane, Eggers, Gardner, Winkler, Justice and East. All but East Hall are located on the west side of campus.
Winkler Hall was demolished in 2014, and six others have been recommended for removal due to extensive deferred maintenance needs. The plan calls for replacing nearly 1,800 beds — and adding 500 more — while also adding better, more efficient parking.
This $191 million project is part of the Recreational Village (page 93) described in the Master Plan 2025. Current plans are to provide between 2,100 and 2,200 beds of student housing in three phases, with completion dates of fall 2020, fall 2021 and fall 2022.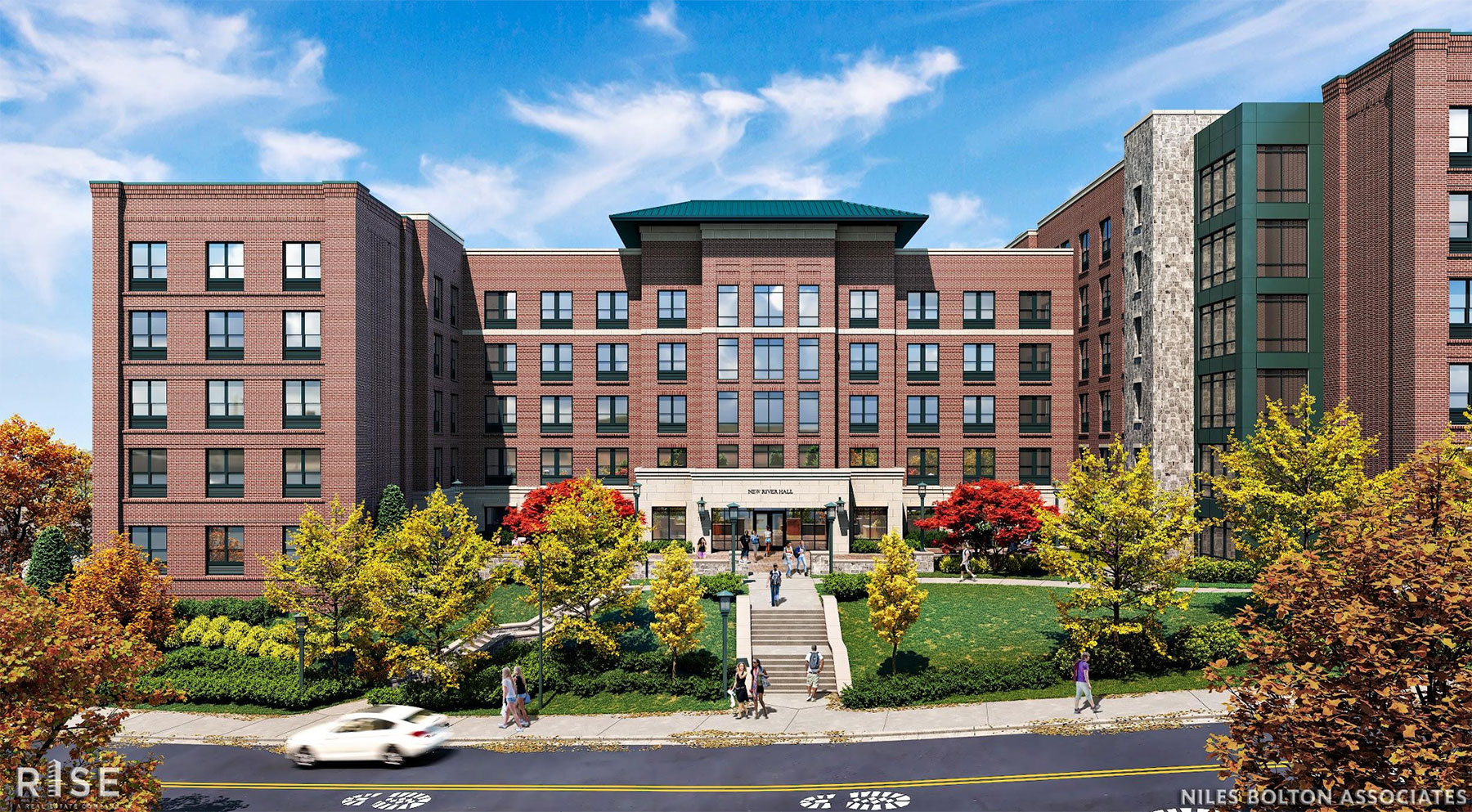 An architectural rendering of the completed New River Residence Hall at App State. Graphic courtesy of RISE: A Real Estate Company and Niles Bolton Associates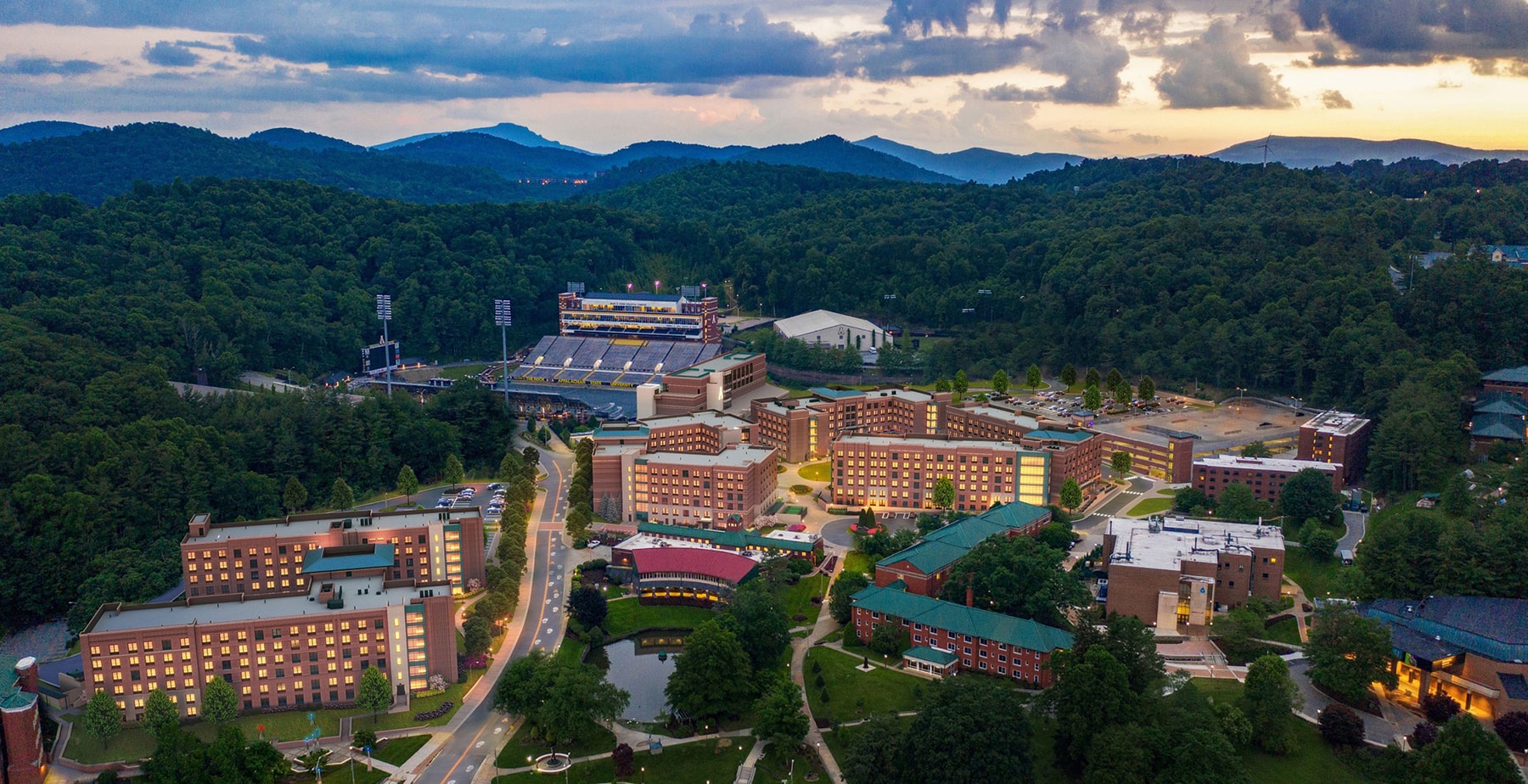 A spring 2021 architectural rendering of the completed residence hall project. Image courtesy of Niles Bolton Associates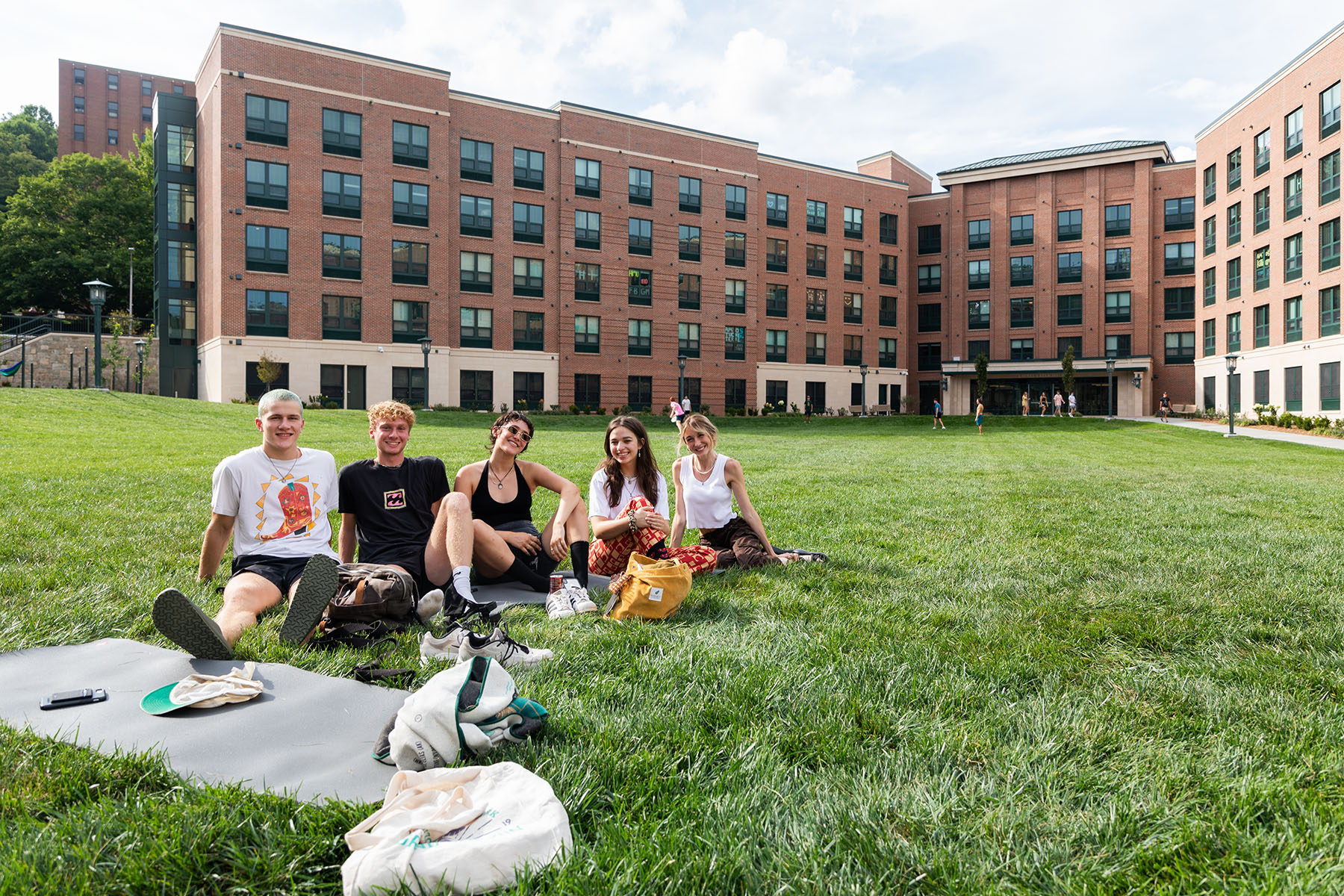 App State students are pictured on the courtyard between Laurel Creek Hall and Raven Rocks Hall in this photo taken Aug. 12, 2021. Photo by Chase Reynolds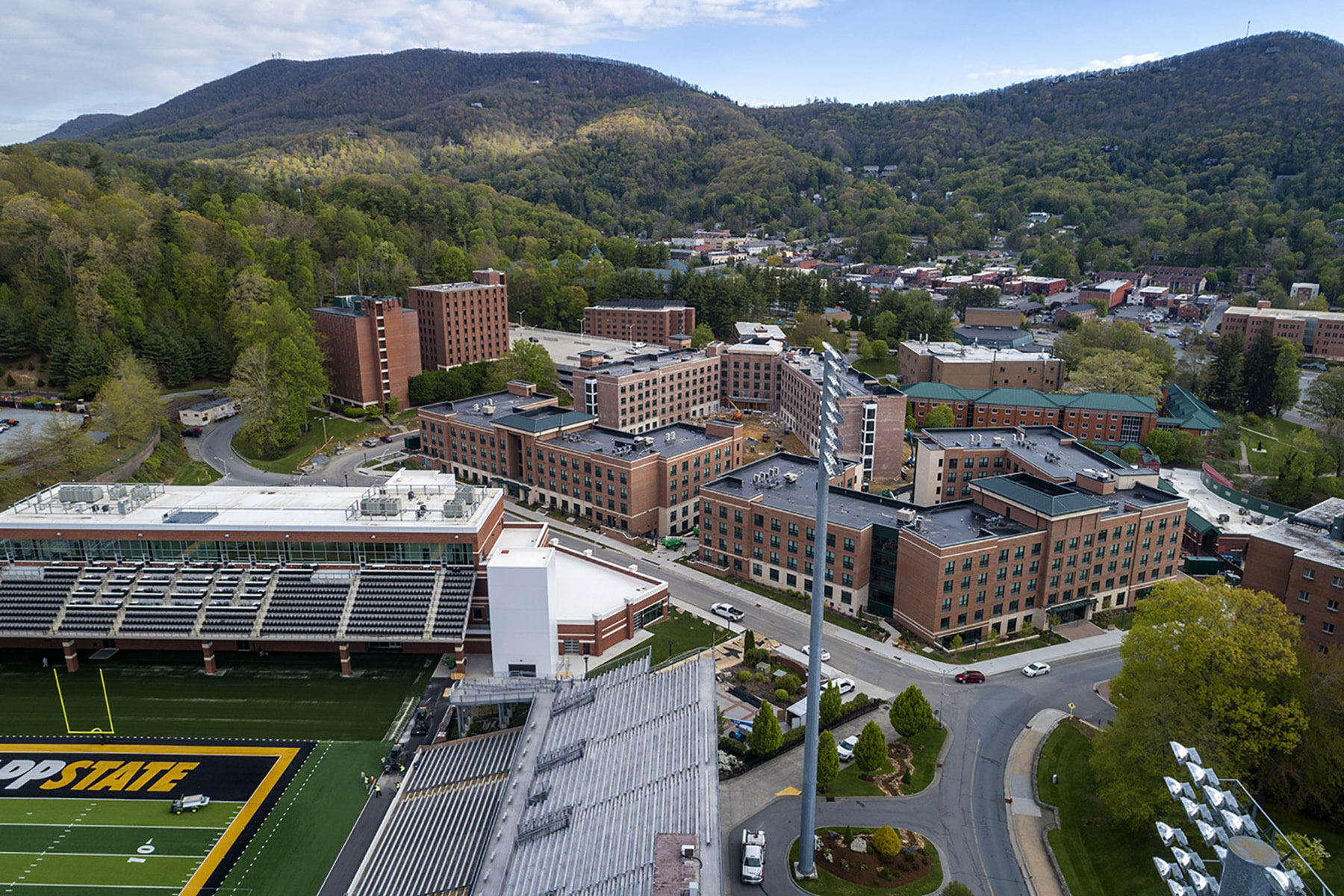 Three of the new residence halls as of May 2021. In the center of the image are, clockwise from top: Laurel Creek Hall, which opened August 2021; Thunder Hill Hall, which opened August 2020; and Raven Rocks Hall, which opened August 2020. Photo by Marie Freeman
Status
In mid-February 2019, App State and RISE: A Real Estate Company (RISE) signed final paperwork required to develop the multiphase, $191 million housing project in a public-private partnership (P3).
The university selected RISE through a competitive procurement process in 2018. The development of the entire project is planned in three phases, with completion dates of fall 2020, fall 2021 and fall 2022.
In phase one, RISE constructed two residence halls —Thunder Hill Hall (Building 100) and Raven Rocks Hall (Building 200) — on what had been Stadium Parking Lot, totaling 912 beds. Both opened for residents in August 2020. Also part of the project, a parking deck with 477 spaces opened August 2019 at the site of the former Winkler Hall, adding 250 more spaces to that area of campus. This phase also included replacement of a steam line in the area. An official ribbon-cutting ceremony for Thunder Hill and Raven Rocks halls was held Sept. 3, 2020, as part of App State's Founders Day events.
As part of phase two, Laurel Creek Hall's (Building 300) construction began Feb. 14, 2020. The building was dried in a year later. By June 2021, all apartments and corridors were completed and inspected, and the HVAC, sprinkler and elevator systems were all working. The building opened for students in August 2021 with 640 beds.
As part of phase three, site work and the pouring of foundations and footers began in February 2021 for New River Hall (Building 400), which will have 750 beds. New River Hall replaces Justice Hall, which was demolished during summer/fall 2020. Construction of the building is on schedule, and furniture will be moved in during June. New River has a slated completion date of July 30, 2022 — in time for students to move in for the fall 2022 semester. Demolition of Gardner and Coltrane residence halls was completed in September 2021, and this area is being developed as surface parking. The final component of the P3 project — the demolition of Eggers and Bowie residence halls — is projected to begin in summer 2022.
Associate Vice Chancellor for Finance and Operations Matt Dull chats with University Communications' Dave Blanks about the construction progress for App State's New River Hall. The exterior work is now complete.
Each of the new residence halls under construction at App State will include a mix of suite- and apartment-style units. On this webpage, click in the upper left corner to toggle between renderings of the two styles. Renderings courtesy of RISE: A Real Estate Company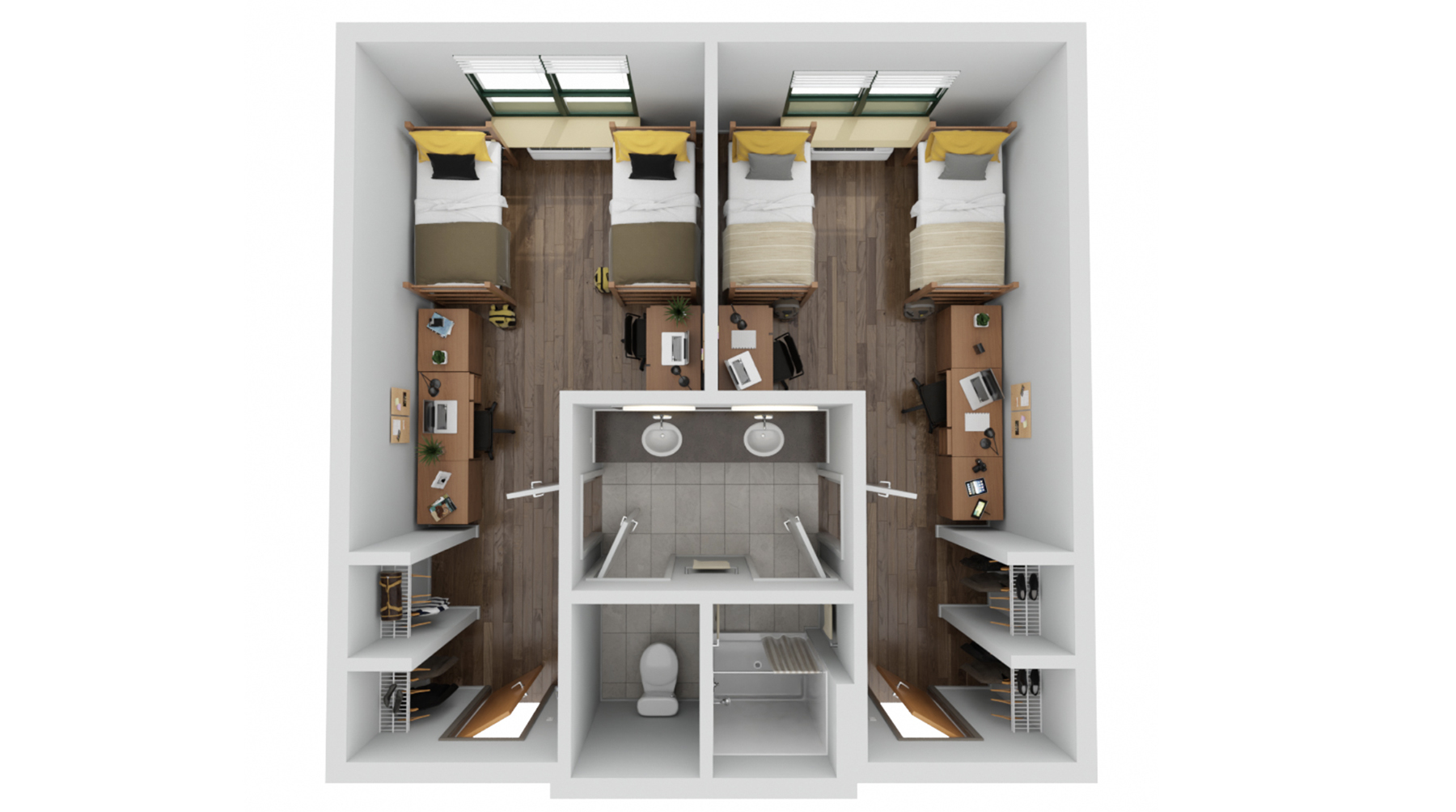 How is it funded?
The project is funded through a public-private partnership, known as a P3.
Approximately 330 beds will be constructed by RISE: A Real Estate Company (RISE) and purchased and owned by App State using proceeds from its General Revenue Bonds, Series 2016C to replace the former Winkler Hall. Approximately 1,770 beds and the parking deck will be financed and owned by Beyond Owners Group (Beyond) through tax-exempt debt.
App State sought and received authorization from the Board of Governors in October 2018 to enter into a ground lease agreement with Beyond, which will serve as the foundation for related agreements on the development and management of the 1,770-bed and parking deck portion of the project.
A ground lease is an agreement in which a tenant is permitted to develop a piece of property during the lease period, after which the land and all improvements are turned over to the property owner. The agreement between the university and Beyond will allow Beyond to obtain project financing. Beyond will have a leasehold interest in the project site, and will be obligated to develop the project and own the privately financed improvements for the duration of the ground lease. App State will have the right to approve plans and specifications for the project.
Through the P3, App State will save more than $73 million over the cost of developing the property on its own. The P3 is made possible by millennial campus designation.
Who will benefit?
First-year and upper-division students who wish to stay on campus in an environment that promotes their academic and personal success will benefit. Community members attending campus events benefit from the additional parking available in the new parking deck, as well as those participating in summer youth camps and professional conferences hosted by App State, which rely on university housing for accommodations.
How does it support UNC System Goals and Metrics?
The first-year experience for both first-year and transfer residential students plays a significant role in student success at App State. Research conducted nationally, as well as on campus by Institutional Research, Assessment and Planning, has shown that students who participate in on-campus housing activities tend to become more involved in campus events, make more friends, create more robust connections with peers and faculty/staff, earn higher grades and are retained at a higher level.
A 360-degree view shot in October 2018 of the site for new residence halls, parking deck and end zone project. Video by Marie Freeman
An aerial view of areas receiving millennial campus designation at Appalachian State University. Video by Marie Freeman