This map indicates the existing Boone Creek culvert, in black, and the study area, in red, that are part of an initial feasibility study completed by Jennings Environmental. Click on the image for a full view of the map. Image courtesy of New River Conservancy
The daylighting of Boone Creek is one of several major construction projects being planned at Appalachian State University to enhance the App State Experience.
The project supports the strategic plan of App State and the university's goals and metrics associated with the University of North Carolina System's strategic plan. It will benefit students, academics and the community.
About
Daylighting Boone Creek in the area of Duncan Hall and Peacock Hall aligns with the objective included in the Master Plan 2025 to improve Rivers Street and expose the campus's natural ecosystems.
It would allow this section of Boone Creek to become a place for education, contemplation and natural inspiration, while also helping mitigate flooding and stormwater runoff issues — much as Durham Park has become for a lower section of Boone Creek near the main campus entrance.
In connection with this project is the possible construction of a parking deck near Peacock Hall with 600-plus spaces and the redesign of traffic flow for buses.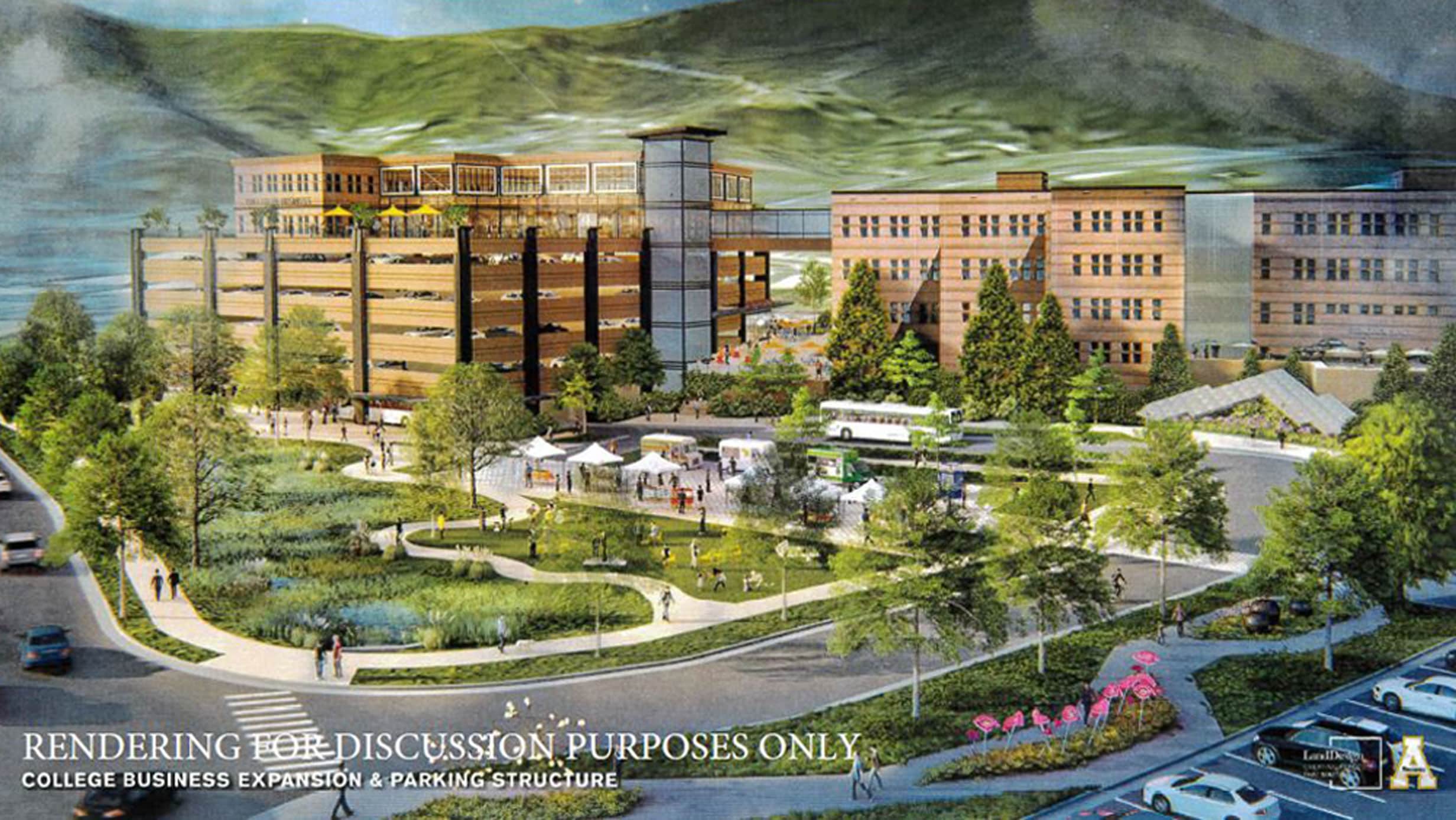 An early concept drawing of what the exposed Boone Creek and redesigned parking and traffic flow near Peacock Hall might look like. Image courtesy of App State Planning, Design and Construction
Status
A feasibility study for the creek's daylighting, which included community information and listening sessions, was conducted in 2019–20 by the university, New River Conservancy, Town of Boone and Jennings Environmental. The report, which was funded by NC Clean Water Management Trust Fund, App State and the Town of Boone, is complete.
In March 2022, the project achieved a positive Federal Interest Determination through the U.S. Army Corps of Engineers (USACE) and the organization is working to negotiate a cost sharing agreement between the Town of Boone and App State as nonfederal sponsors of a project feasibility study.
The project awaits future funding decisions.
How is it funded?
Funding allocated to App State by the North Carolina General Assembly as part of the FY 2021–22 biennial budget bill, signed into law by Gov. Roy Cooper on Nov. 18, 2021, allows the university to initiate work to begin the planning for daylighting Boone Creek. The budget includes $79 million for capital projects and $43.15 million for one-time repair and renovation project support.
Who will benefit?
The entire campus and local community will benefit for technical and aesthetic reasons. Stormwater control in this area is expected to improve conditions downstream, while a visible creek with natural plants along Rivers Street will enhance the beauty of this major thoroughfare. Science students whose professors use the exposed Boone Creek as a learning tool will also benefit through research and class activities.
How does it support UNC System Goals and Metrics?
An enhanced campus designed with students, faculty, staff and the public in mind supports recruitment and retention of all members of the university and local communities.
Major current projects:
Major completed projects:
An aerial view of areas receiving millennial campus designation at Appalachian State University. Video by Marie Freeman