This aerial photo, taken June 13, 2022, shows the future home of App State's Innovation District project. The site is located atop Bodenheimer Drive. Click on the image for a full view. Photo by Wes Craig and Chase Reynolds
This video provides an aerial view of App State's Innovation District — the future home of the Conservatory for Biodiversity Education and Research. The district will be located at the site of the former Broyhill Inn and Conference Center on Bodenheimer Drive.
In Appalachian State University's Innovation District project, the term "district" refers to both physical space and collaborative spirit.
This initiative will bring together expertise across disciplines and facilitate collaborations on campus and with the communities throughout the region, extending the university's mission of teaching, research and service, preparing the workforce of today and building the workforce of tomorrow. The project is expected to have a lasting and powerful impact on the entire region, broadening economic development opportunities across Northwestern North Carolina.
The Innovation District will be located at the site of the former Broyhill Inn and Conference Center on Bodenheimer Drive, at the edge of the neighboring Nature Preserve. The first academic building included in the project's first phase of development is the Conservatory for Biodiversity Education and Research, which will include cross-disciplinary collaboration and encourage K–12 partnerships.
Phase one of the project also includes:
The development of faculty and staff housing units, which will help meet App State employees' housing needs amid housing scarcity and cost inflation in Boone.
A zero-carbon district energy system that will begin to transition campus away from steam power. App State has a long-established reputation as a leader in the renewable energy space, and the university is exploring renewable energy options that will establish a national example for sustainable energy solutions.
Subsequent phases will include additional academic and partnership spaces. Facilities under discussion include:
Spaces for research, teaching, and demonstration.
Workspaces for multidisciplinary projects.
Renewable energy labs.
Conference rooms.
Exhibition and studio spaces.
Housing.
The Innovation District will utilize expertise found in App State's Appalachian Energy Center, Center for Appalachian Studies, Research Institute for Environment, Energy, and Economics, Transportation Insight Center for Entrepreneurship, and the Small Business and Technology Development Center.
This project is described in App State's Master Plan 2025 as "The Broyhill Innovation District" (page 87).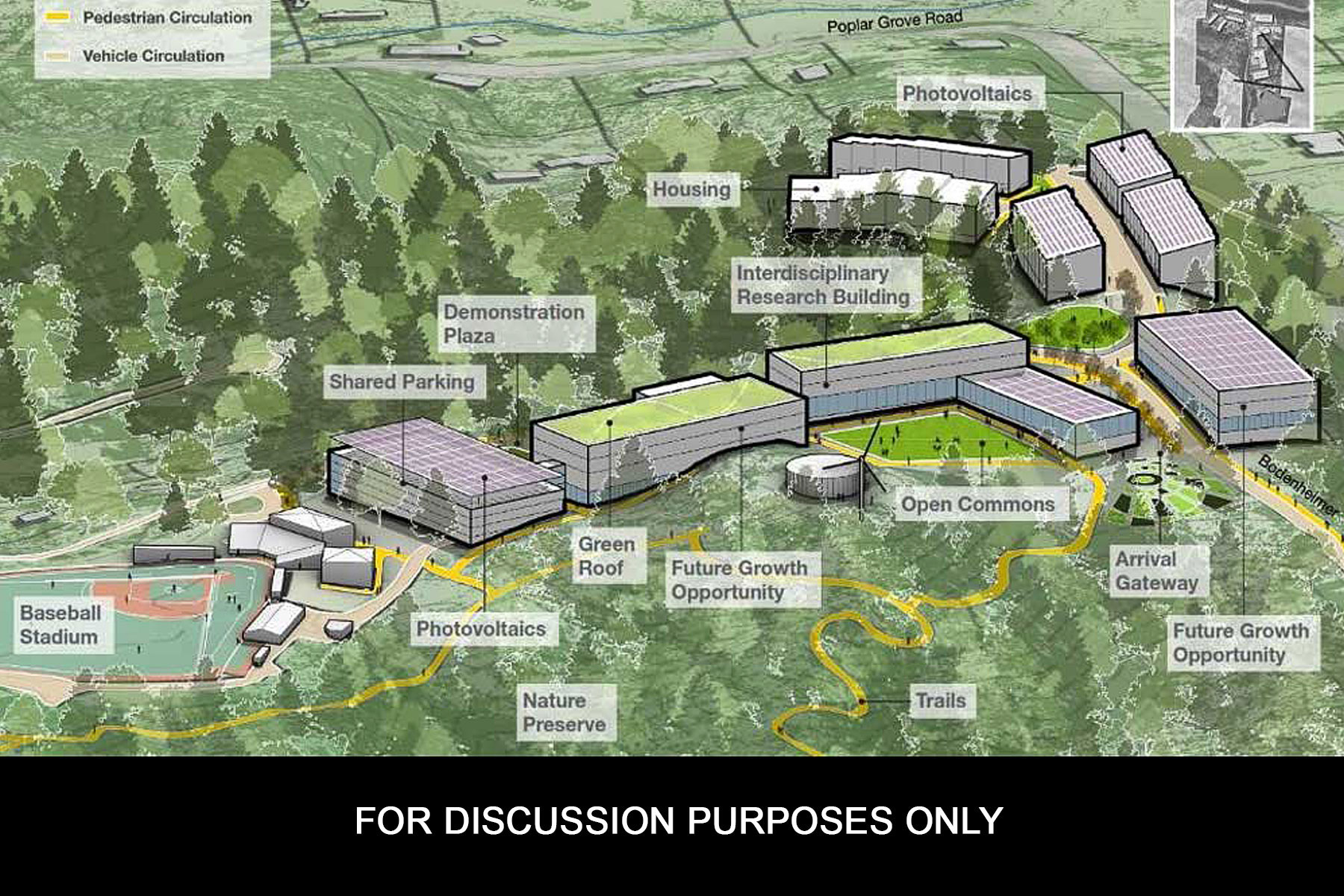 This conceptual rendering of App State's Innovation District shows options for the project, including the Conservatory for Biodiversity Education and Research, housing for faculty and staff, and shared parking. Graphic courtesy of Brailsford & Dunlavey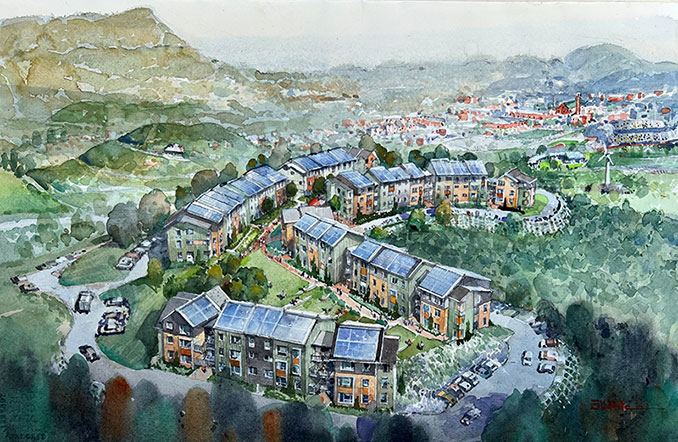 A summer 2022 architectural rendering depicts a concept for faculty and staff housing as part of App State's Innovation District. Image courtesy of Radnor Property Group
Status
App State ceremoniously broke ground on the first phase of development for the Innovation District — beginning with the Conservatory for Biodiversity Education and Research — on March 25, 2022.
The university has selected development partners Radnor Property Group LLC (Radnor) and Harrison Street through a competitive solicitation process to deliver an integrated phase one development concept for the district.
The project's construction timeline:
App State's targeted opening date for the conservatory is 2025, with construction anticipated to begin in summer 2023 — once the design for the building is finalized.
Construction for the project's faculty and staff housing is slated to begin in winter 2023 and conclude in 2025.
The design for the energy system is expected to be finalized in fall 2022, with the system becoming operational in 2025.
Work to create the district's master plan began in summer 2021, when the project's planning committees — along with independent advisory firm Brailsford & Dunlavey — collaborated to establish the university's strategic priorities for the district. A market research and demand analysis and an energy and utilities analysis for the project were also performed.
Chancellor Sheri Everts charged a steering committee to ensure the master plan for the Innovation District is informed by the latest information, market trends and input from the App State Community. Provost Heather Hulburt Norris and Hank Foreman, in his role as Vice Chancellor of External Affairs and Strategic Initiatives, led this team.
In August 2021, the university hired design, architecture and engineering firm Page to provide master planning services for the Innovation District. Working closely with Brailsford & Dunlavey, the firm held three listening charrettes in fall 2021 with departments across campus to refine the development concept for the district, which was finalized in December 2021.
In late January 2022, the Innovation District Working Group met with two design firms that have offered multiphased development concepts for a Zero-Carbon District, meaning the district's buildings will be highly energy efficient and powered by carbon-free, renewable energy sources. This will not only lower the buildings' environmental impact but also help make them more financially viable.
Designers were also asked to include faculty and staff housing concepts as part of their proposals — as one way to help address housing shortages that affect App State's ability to recruit and retain talented faculty and staff.
The University of North Carolina System Board of Governors approved the pre-development letter of intent for the district's first phase in July 2022.
How is it funded?
The Bodenheimer Drive property has been designated as millennial campus space since 2015. This gives App State the flexibility to develop the property with private sector firms, issue bonds or lease the space.
In the FY 2021–22 biennial budget bill signed into law by Gov. Roy Cooper on Nov. 18, 2021, the North Carolina General Assembly allocated $54 million in non-recurring funds to begin work on the Innovation District project, beginning with the Conservatory for Biodiversity Education and Research.
The district's faculty and staff housing and zero-carbon energy system will be supported through public-private partnerships (P3) that do not rely upon state funds, or any capital from the university. Low market options will be available to help meet the demand for faculty and staff housing. The UNC System Board of Governors approved App State's pursuit of P3 agreements for these Innovation District components at its July 20, 2022, meeting.
Who will benefit?
Students who will become tomorrow's solution-makers, as well as the community, state, region and beyond who are served by the increased student engagement with research, creativity, innovation, design thinking and entrepreneurship.
How does it support UNC System Goals and Metrics?
App State can produce more graduates in the critical workforce areas for North Carolina — identified in the UNC System's strategic plan as STEM, health sciences, K-12 education and emerging workforce areas — who are capable of addressing the needs of the world.
Appalachian's Innovation District Video Transcript
Voiceover: In 1899, the misty ridges of Northwestern North Carolina became home to a simple, yet powerful vision: to transform lives and the region through the empowerment of education. Nearly 125 years later, students still feel the pull of this unique place, and Appalachian State University remains grounded in the vision of our founders, providing rural access to a sterling education and serving the region.
As the University of North Carolina System continues to expand signature educational opportunities in Western North Carolina, Appalachian's contribution to this effort is an Innovation District, which will enhance curriculum while delivering a profound impact on the region's economic development.
Located at the edge of a 65-acre nature preserve, the Innovation District will provide a vital link between the university and the regional community through education, research and outreach.
As the Innovation District develops, it will provide a vital and dynamic space where students and faculty will work together with industry partners in specialized areas that capitalize on App State's strengths and regional identity. Collaborations across colleges and disciplines will prepare students for career progression in a dynamic work environment.
Nearly 125 years after B.B., D.D. and Lillie Shull Dougherty set forth on their ambitious plan, App State's pioneering vision is bolder than ever.
Major current projects:
Nearly completed major projects: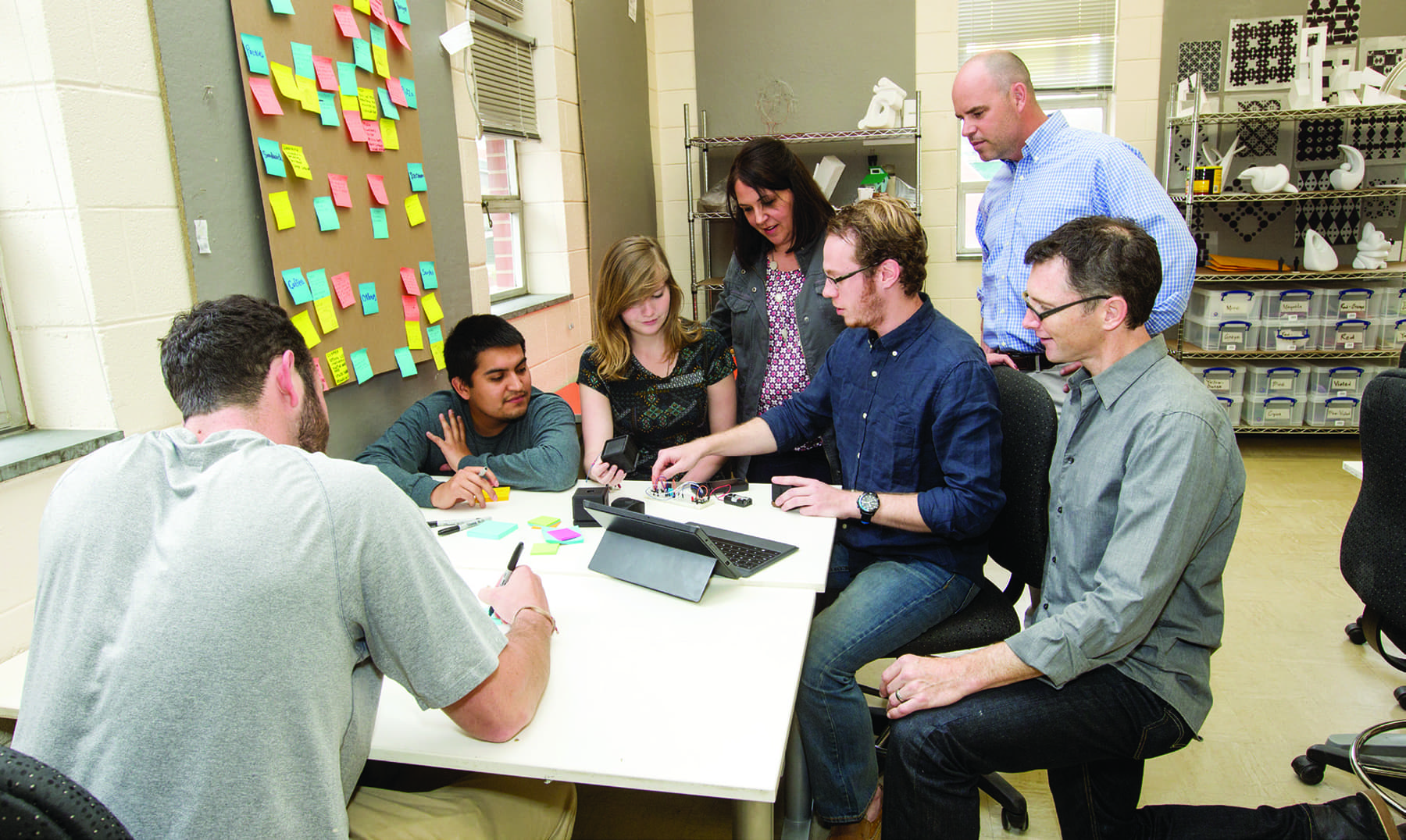 Collaboration, both on campus and with the community, will be a primary emphasis of the Innovation District. Photo by Marie Freeman
Planning committees for Innovation District
Steering Committee
Dr. Heather Hulburt Norris, provost and executive vice chancellor
Jane Barghothi, vice chancellor of university advancement
J.J. Brown, vice chancellor of student affairs
Hank Foreman, vice chancellor of external affairs and strategic initiatives and chief of staff
Megan Hayes, associate vice chancellor and chief communications officer
George Baldwin, executive director for corporate and foundation relations, committee liaison
Operating Committee
George Baldwin, executive director for corporate and foundation relations and committee chairman
Nick Katers, associate vice chancellor of facilities
Matt Dull, associate vice chancellor of finance and operations
Dr. Ece Karatan, vice provost of research
Dr. Lee Ball Jr., chief sustainability officer
Sharon Bell, associate vice chancellor of finance and administration
Matthew Dockham, director of external affairs and community relations
Dr. Mike Madritch, associate professor and interim dean of the College of Arts and Sciences
Jason Miller, associate professor and associate dean of the College of Fine and Applied Arts
Erich Schlenker, managing director for the Transportation Insight Center for Entrepreneurship
Dr. Mike McKenzie, vice provost of academic program development and strategic initiatives
Selection Committee
Hank Foreman, vice chancellor of external affairs and strategic initiatives and chief of staff
Nick Katers, associate vice chancellor of facilities management
Jeff Pierce, director of planning, design and construction
Dr. Andy Koch, professor in the Department of Government and Justice Studies
Dr. Mike McKenzie, vice provost of academic program development and strategic initiatives
George Baldwin, executive director for corporate and foundation relations