A fall 2019 aerial view of Founders Plaza, with statues of two of Appalachian's co-founders, B.B. Dougherty and Lillie Shull Dougherty, and Founders Bell Pavilion. Click on the image for a full view. Photo by Marie Freeman
Founders Plaza was one of several major construction projects completed recently at Appalachian State University to enhance the Appalachian Experience. The project supports the strategic plan of Appalachian and the university's goals and metrics associated with the University of North Carolina System's strategic plan.
About
As a tribute to Appalachian's founders, B.B. and D.D. Dougherty and Lillie Shull Dougherty, a new plaza was constructed in the Appalachian sign area off Hardin Street. Founders Plaza, dedicated Sept. 5, 2018, provides a larger, more iconic setting for the Appalachian sign and a new outdoor space for studying, small gatherings and scheduled campus events. The university's sculpture of B.B. Dougherty was placed prominently in the new plaza.
This $350,000 project fits into the Master Plan 2025's description of a new campus gateway. (page 59)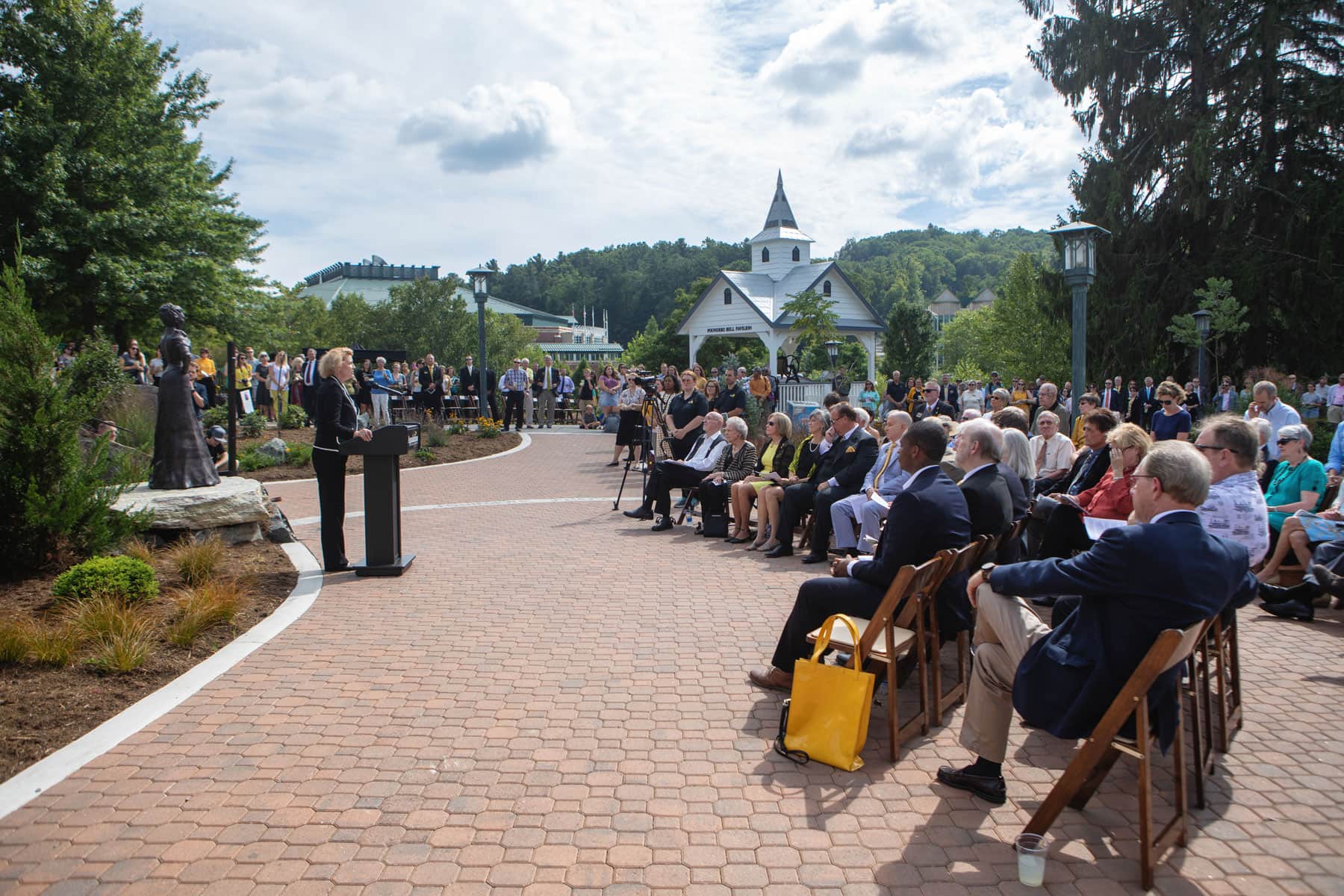 Chancellor Sheri Everts speaks to the crowd during the second annual Founders Day Ceremony Sept. 5, 2019. To Everts' left is the new statue of Lillie Shull Dougherty. Visible behind the crowd is Founders Bell Pavilion. Photo by Marie Freeman
Status
A dedication and luncheon was held Sept. 5, 2018 — the date of a new tradition, Founders Day, to be celebrated each fall to honor Appalachian's founders and the first day of classes in 1899.
At Founders Day 2019, the university dedicated two additions to the plaza: a commemorative statue of Lillie Shull Dougherty and Founders Bell Pavilion, an architectural reproduction of the roof line and bell steeple of Watauga Academy, the school that evolved into Appalachian State University. The pavilion houses one of Appalachian's historic bells.
How is it funded?
With a portion of the university's FY18 State Repair and Renovations (R&R) allocation.
Who will benefit?
The entire campus and local community. Traditionally a popular spot for students, their families and alumni to take pictures, this area now pays greater tribute to Appalachian's founders and its 120-year history.
How does it support UNC System Goals and Metrics?
An enhanced campus designed with students, faculty, staff and the public in mind supports recruitment and retention of all members of the university and local communities.
An aerial view of areas receiving millennial campus designation at Appalachian State University. Video by Marie Freeman