An early redesign concept for the atrium in App State's University Bookstore is shown in this artist's rendering. Click on the image for a full view. Graphic courtesy of Jenkins Peer Architects
The University Bookstore renovation is one of several major projects underway at Appalachian State University to enhance the App State Experience.
The project supports the strategic plan of App State and the university's goals and metrics associated with the University of North Carolina System's strategic plan. The entire campus community — including students, faculty and staff — as well as fans, alumni and campus visitors will benefit.
About
The project includes a comprehensive renovation of more than 15,000 square feet of first-floor retail and service space in App State's University Bookstore, with a goal of increasing sales revenue to enhance the bookstore's scholarship contributions for App State students.
High volumes of pedestrian traffic through the store, along with emerging retailing strategies and consideration of associated space programming, led to the preparation of a strategic study in 2019 for space improvements.
Some of the planned store improvements include:
Digital signage displays.
A new sound system.
Decor that highlights App State's campus culture and the university's High Country setting.
Located at the heart of campus in Plemmons Student Union, the bookstore serves the entire App State Community, as well as campus guests. The two-story store, constructed in 1969 and renovated a handful of times since, provides students with services and goods and houses the university's textbook rental program, which launched its new digital delivery system in summer 2021. Established in 1938, the program saves most students hundreds of dollars over the course of their academic careers.
Bookstore profits support student scholarships at App State. Since 2014, the bookstore has contributed nearly $5.2 million in scholarship funds to help App State students finance their education.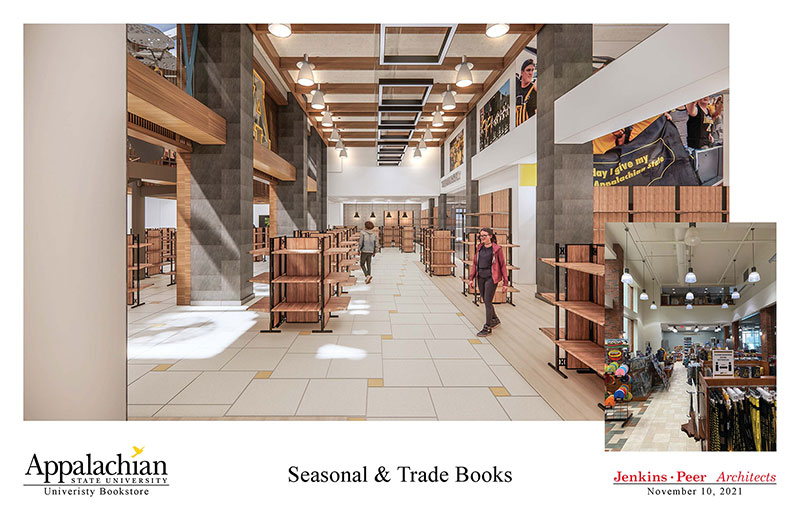 An early redesign concept for the University Bookstore's first floor and atrium is shown in this artist's rendering. Graphic courtesy of Jenkins Peer Architects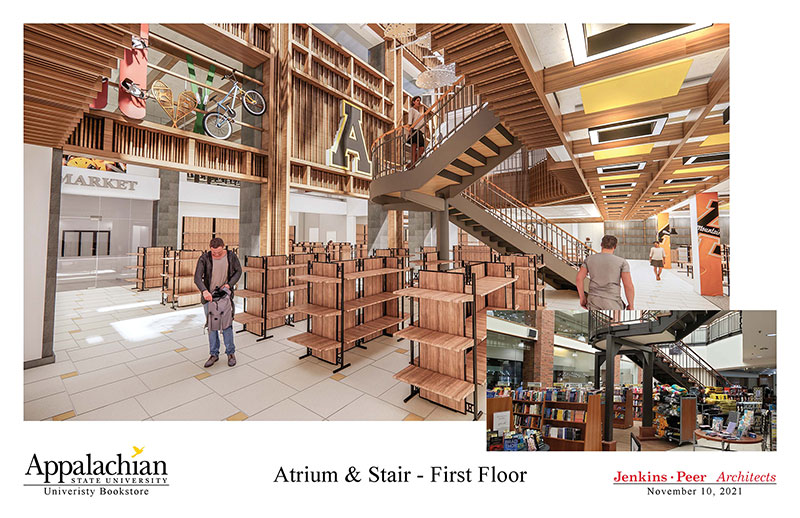 This concept art shows what the renovated seasonal and trade books section of the University Bookstore might look like. Graphic courtesy of Jenkins Peer Architects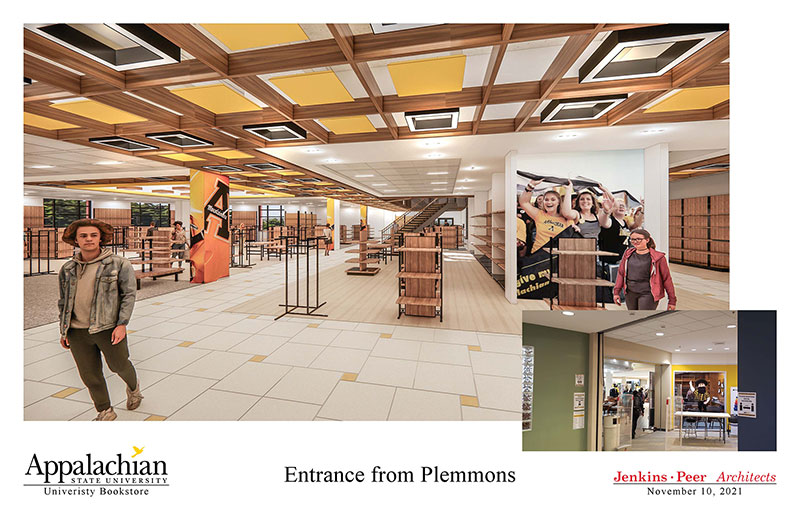 An artist's rendering of the redesigned University Bookstore entrance from Plemmons Student Union. Graphic courtesy of Jenkins Peer Architects
Status
On March 27, 2020, App State's Board of Trustees approved $170,036 in funding for the advanced planning stage of the project. The board authorized full funding for the project — bringing the total to approximately $5 million — during its Dec. 3, 2021, meeting, and the University of North Carolina System Board of Governors approved the full project funding at its Jan. 20, 2022, meeting.
App State worked with project designer Jenkins Peer Architects to develop construction plans for the renovation. Those plans were finalized in November 2022 and construction began Dec. 19, 2022. The bookstore remains open during the renovation, operating on the second floor. This project is anticipated to be complete in summer 2023.
How is it funded?
The bookstore renovation project is supported by the university's auxiliary trust funds, including revenue generated through bookstore sales.
Who will benefit?
The entire App State Community, including students, faculty and staff, as well as alumni, Mountaineer fans, campus visitors and local residents, will benefit from the bookstore renovation.
How does it support UNC System Goals and Metrics?
An enhanced campus designed with students, faculty, staff and the public in mind supports recruitment and retention of all members of the university and local communities.
Potential increases in bookstore revenue generated as a result of the renovation can provide more scholarship support for App State students. These funds support a wide range of student scholarships across the university, contributing to the affordability of an App State education.
App State's state-of-the-art textbook rental program, which operates through a digital delivery system, provides equitable access, convenience, sustainability and savings to most students. The program contributes to the affordability of an App State education for current and prospective students, and — in the words of App State Chancellor Sheri Everts — aligns with the university's goal of providing equal access for all to the premier public undergraduate institution in the Southeast.
The bookstore's Campus Services Express, located on the second floor, provides students, faculty and staff with convenient access to AppCard, Campus Dining and Parking and Transportation services. Here, App State Community members can register for campus parking, make changes to their meal plans and obtain new or replacement AppCards. Students can also visit this space to apply for Campus Services jobs across campus.
New for 2021–22, App State's official regalia, available for purchase through the bookstore, is made in the USA, with fabric produced from 100% post-consumer recycled plastic bottles. With an average of 25 plastic bottles used to produce each cap and gown, App State's Spring 2022 Commencement ceremonies diverted nearly 100,000 plastic bottles from the landfill.
Centrally positioned on App State's campus, the bookstore serves as an ideal location from which to host and highlight guest speakers and campuswide events. The store is also a first and regular point of contact for numerous members of the App State Community — and beyond. Some key points of engagement:
As a regular stop on campus tours, the bookstore is one of the first avenues through which prospective App State students and their families connect with the university and its brand.
The bookstore receives further traffic from alumni who frequent the facility when returning for App State events, such as Homecoming, as well as Mountaineer fans who purchase their App State gear at the bookstore and the Team Store it operates at Kidd Brewer Stadium.
Nearly completed major projects: