Former head App State football coach Jerry Moore, and his wife, Margaret Moore, are pictured with the bronze statue in his likeness, located in the north end zone facility's Jerry Moore Plaza. The statue was unveiled during a Sept. 18, 2021, dedication ceremony for the plaza. Click on the image for a full view. Photo by Chase Reynolds
Kidd Brewer Stadium — North End Zone was one of several major construction projects completed recently at Appalachian State University to enhance the App State Experience.
The project supports the strategic plan of App State and the university's goals and metrics associated with the University of North Carolina System's strategic plan. This project will benefit students, athletics, academics and the community.
About
Identified as the "mixed-use athletics facility" project in the Master Plan 2025 (page 96), or sometimes referred to as the End Zone Project, this initiative has transformed the north end zone of Kidd Brewer Stadium into a facility providing more than 80,000 square feet of space designed to accommodate various athletics, academic and community uses.
The total budget for the end zone project was $50 million, after an additional $5 million was approved by the Board of Trustees Nov. 5, 2019.
This project is part of the Recreational Village (page 93) described in the Master Plan 2025.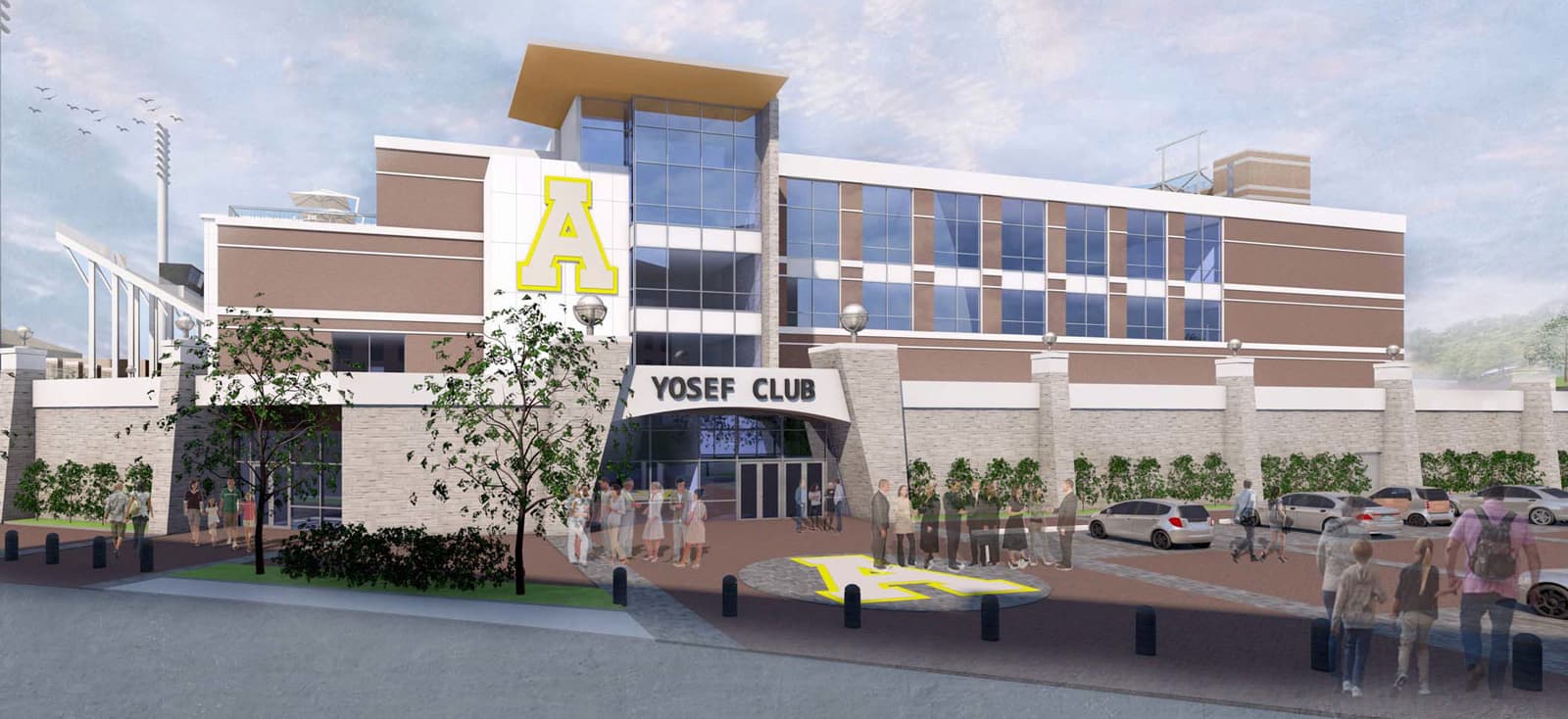 Architectural renderings of the north end zone facility at Appalachian's Kidd Brewer Stadium. Images courtesy of CJMW Architecture.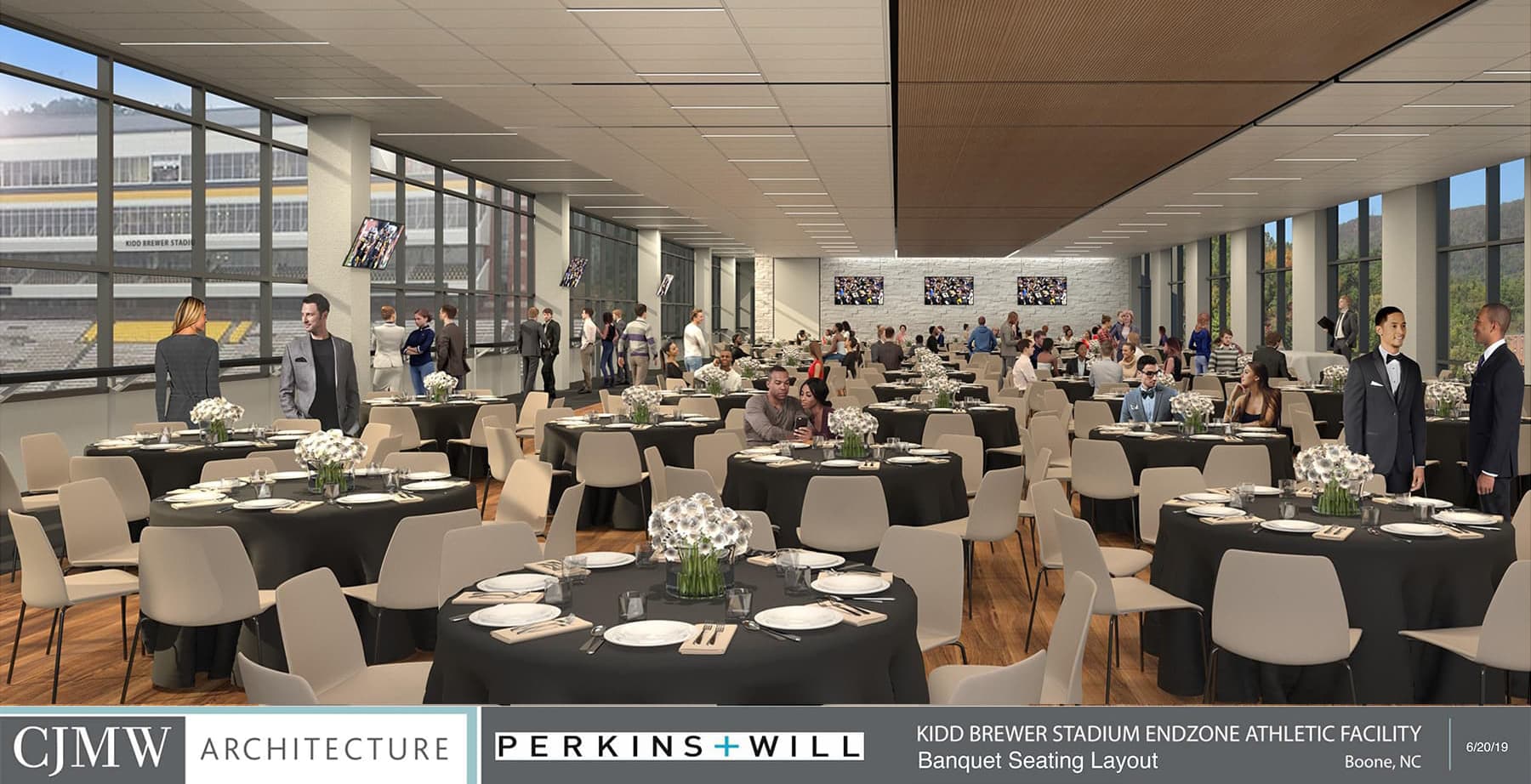 Interior renderings of the north end zone facility at Appalachian's Kidd Brewer Stadium. Images courtesy of CJMW Architecture.
Status
D.H. Griffin Companies was selected for the demolition of Owens Field House, which began March 25, 2019, and took two days. Prior to demolition, App State's Facilities Operations salvaged $300,000 worth of materials for reuse in other campus buildings, and Athletics reused most of the furniture. From the debris, all metals were recycled and most of the masonry was used as fill material on another construction site. These actions accrued points toward LEED (Leadership in Energy and Environmental Design) green building certification of the new, mixed-use athletics facility.
On Nov. 5, 2019, App State's Board of Trustees approved an additional $5 million in spending due to a tight construction market, as well as expenditures up to $2.5 million to replace Kidd Brewer Stadium's synthetic turf to fit the layout of the new end zone.
Construction on the building began in September 2019. The new synthetic turf was installed during summer 2020 and is 20% larger than the old turf because of the track's removal to accommodate the new end zone facility. The track will be relocated to the App 105 property. The project also included changes in the grading and drainage, as well as new emergency vehicle access points and stormwater modifications. The turf designer was CHA Consulting Inc. and the vendor/installer was Astro Turf. Cost: approximately $1.5 million.
The end zone facility is 88,233 square feet and LEED Silver certified. Notable design elements include a glass elevator tower, a top-of-the-line catering kitchen and floor-to-ceiling windows in the Grandview Ballroom that feature views of both Howard's Knob and Kidd Brewer Stadium.
The building opened in phases:
First phase: A conditional opening of the fourth-floor Grandview Ballroom, the balcony seats and the first-floor lobby took place with a ribbon-cutting ceremony Nov. 13, 2020, followed by the Nov. 14, 2020, football game against Georgia State.
Second phase: The first and second floors were completed during spring 2021. The first floor includes a locker room, strength and conditioning area, team store, hydrotherapy pools, treatment/exam room, a team lounge, Hall of Fame collection, barbershop and catering kitchen. The second floor houses athletics offices, a recruitment room, a classroom and conference rooms. Athletics staff moved into the building in May 2021.
Third phase: The third floor, which opened in early November 2021, houses medical office space — including a reception area, exam rooms and a gym area — for BreakThrough Physical Therapy and Appalachian Regional Orthopaedic & Sports Medicine (AppOrtho).
On Sept. 18, 2021, hours before the Mountaineers' first home football game of the 2021 season, App State held a dedication ceremony for the Jerry Moore Plaza located outside the north end zone facility entrance. The plaza commemorates Jerry Moore, who served as head football coach at App State from 1989 to 2012, and includes a bronze statue in Moore's likeness, which was crafted by local artist Suzie Hallier and unveiled during the ceremony. Construction of the plaza began in April 2021 and was funded by donations.
How is it funded?
The project was funded through donations to Appalachian Athletics' "A Mountaineer Impact: A Drive for Excellence" fundraising initiative, club seat revenue, Campus Services revenue and debt through Millennial Campus designation, which will be repaid using tenant lease revenue.
Who will benefit?
In addition to providing an enhanced experience for student-athletes and fans, this facility is available for use by the entire campus community. It accommodates various athletics and academic uses, including activities of the athletic training and nutrition science programs. The wider community can also rent the Grandview Ballroom venue for weddings, receptions and other events.
How does it support UNC System Goals and Metrics?
An enhanced experience for student-athletes and fans can go a long way in recruiting new students. It also can cultivate donors, which in turn supports scholarships for students needing financial assistance to attend college.
Major current projects:
Major completed projects:
An aerial view of areas receiving millennial campus designation at Appalachian State University. Video by Marie Freeman