The completed expansion of App State's Child Development Center is shown in this aerial photo taken in September 2022. Click on the image for a full view. Photo by Wes Craig and Chase Reynolds
The Child Development Center expansion was one of several major construction projects completed at Appalachian State University to enhance the App State Experience.
The project supports the strategic plan of App State and the university's goals and metrics associated with the University of North Carolina System's strategic plan. It will benefit students, academics and the community.
About
This project increased capacity of the Child Development Center (CDC), which serves the university's faculty, staff and students.
Part of the Division of Student Affairs, the CDC offers high-quality, affordable care to 68 children. At the time of the expansion's opening in fall 2022, the center had a waitlist of more than 200 children/families.
Chancellor Sheri Everts said the university recognizes the importance of child care in recruiting and retaining highly qualified faculty, staff and students, and for allowing students to continue their education as they raise and expand their families. The center's operations are funded by sliding scale fees based on the income of the parents and families of the children.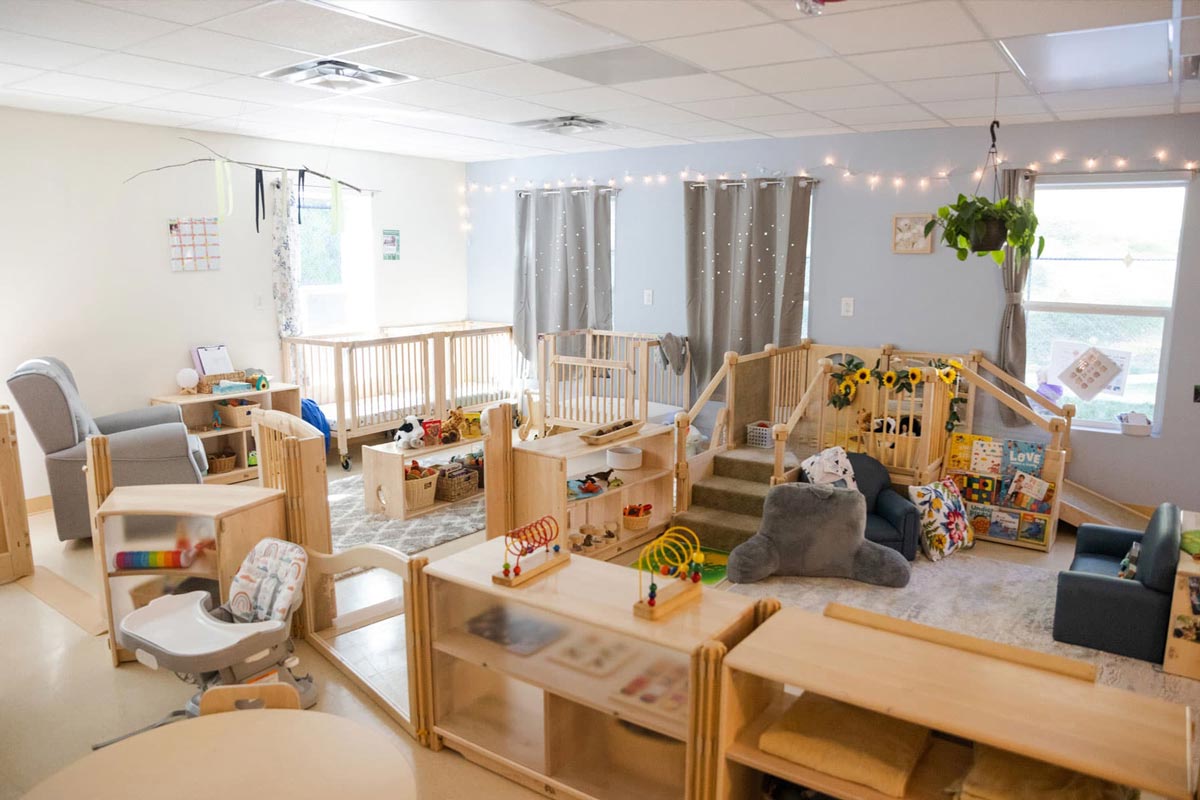 One of the new classrooms in App State's Child Development Center. Photo by Chase Reynolds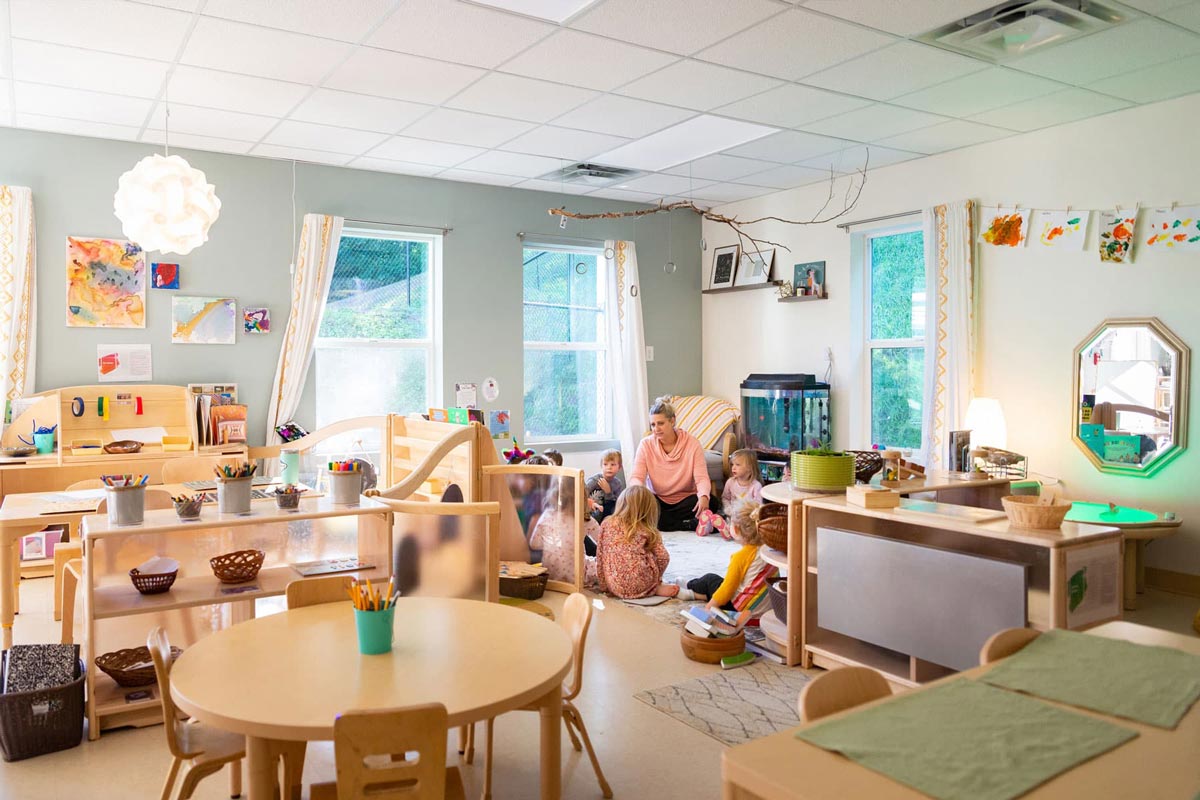 Child Development Center students are shown in one of the facility's new classrooms in September 2022. Photo by Chase Reynolds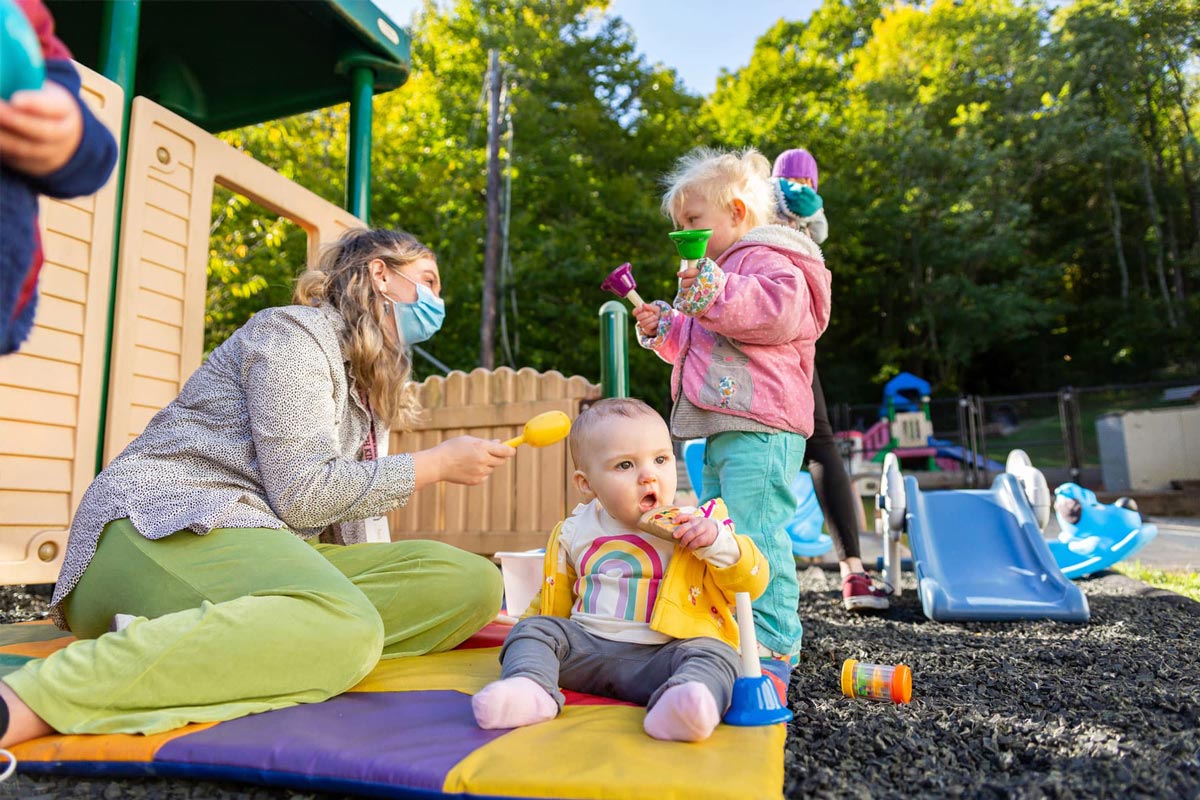 A Child Development Center (CDC) staff member, far left, works with young CDC students in the center's adjacent playground facilities in September 2022. Photo by Chase Reynolds
Status
A design selection committee worked through the fall 2018 semester soliciting proposals from possible design firms and conducting interviews. The committee's final selection, Clark Nexsen, of Asheville, was approved by App State's Board of Trustees Friday, Dec. 7, 2018. Clark Nexsen concluded a feasibility study recommending a best course of action to university leadership in June 2019.
After considering the report, the university planned to add a 3,000-square-foot, pre-fabricated building with a fixed foundation to the existing site on Poplar Grove Road and renovate the current building — changes that would allow the facility to accommodate an additional 40–50 children. Associated site work was to consist of a new drop-off area, parking, sidewalks and exterior playground space. Site preparation began with the boring of soil samples in January 2020.
Zoning and annexation into the Town of Boone were approved in fall 2020, and MBI Builders LLC was signed as contractor in February 2021. The project experienced permitting and materials delays, which extended the completion date of construction work for the building's exterior to June 2022.
The sections of the pre-fabricated building arrived at App State in December 2021, with siding and a pitched roofed installed in early spring 2022. Workers moved furniture into the new facility and completed work for the site's sidewalks, parking lot and new playground area in summer 2022. Facility classrooms passed local health department inspection in August 2022 and the building received its certificate of occupancy. CDC received its North Carolina Division of Child Development and Early Education licensure for the facility on Aug. 19, 2022, and opened on Aug. 22, 2022 — the first day of fall 2022 semester classes at App State. A dedication ceremony for the building will be held later in fall 2022.
The center is licensed for 54 additional children. The design added five additional classrooms, a kitchen, laundry facilities and additional parking and sidewalks around the new and existing buildings. Additionally, a new AppalCART bus stop will be placed at the center this fall, providing greater access to and from CDC for those student parents and community families who rely on local transit.
How is it funded?
The UNC Board of Governors has approved the expenditure of $2.57 million in university operating funds for the total project.
Who will benefit?
Primarily, the campus community, as more students, faculty and staff will have access to high-quality, affordable child care through the university.
A recent assessment by Wellness and Prevention Services indicated an increasing number of students have dependents and need additional support, such as child care options, to thrive at App State. Most of these student parents do not have family support nearby, according to the Child Development Center's director, Moriah Stegall.
Secondly, the larger community may benefit as slots in local child care facilities become available as a result of the increased accommodation by the CDC.
How does it support UNC System Goals and Metrics?
An enhanced campus designed with students, faculty, staff and the public in mind supports recruitment and retention of all members of the university and local communities.
Major current projects:
Major completed projects:
An aerial view of areas receiving millennial campus designation at Appalachian State University. Video by Marie Freeman