This artist's rendering depicts what App State's Edwin Duncan Hall might look like once renovations to the building are complete. Click on the image for a full view. Graphic courtesy of McMillan Pazdan Smith Architecture
The Edwin Duncan Hall renovation is one of several major construction projects underway at Appalachian State University to enhance the App State Experience.
The project supports App State's strategic priorities, as well as the university's goals and metrics associated with the University of North Carolina System's strategic plan. It will benefit students, faculty, staff and academics.
About
The planned renovation of Edwin Duncan Hall includes adding and refurbishing elevators, making repairs to the building's exterior, installing a new sprinkler system and completely revamping the facility's HVAC system.
Constructed in 1965, Edwin Duncan Hall contains office space, classrooms and labs and has undergone numerous, small renovations over the years. The nearly 98,000-square-foot facility will be completely gutted as part of the renovation, with a goal of improving and adapting the space to current and future programming needs — which includes offering more technologically advanced classrooms.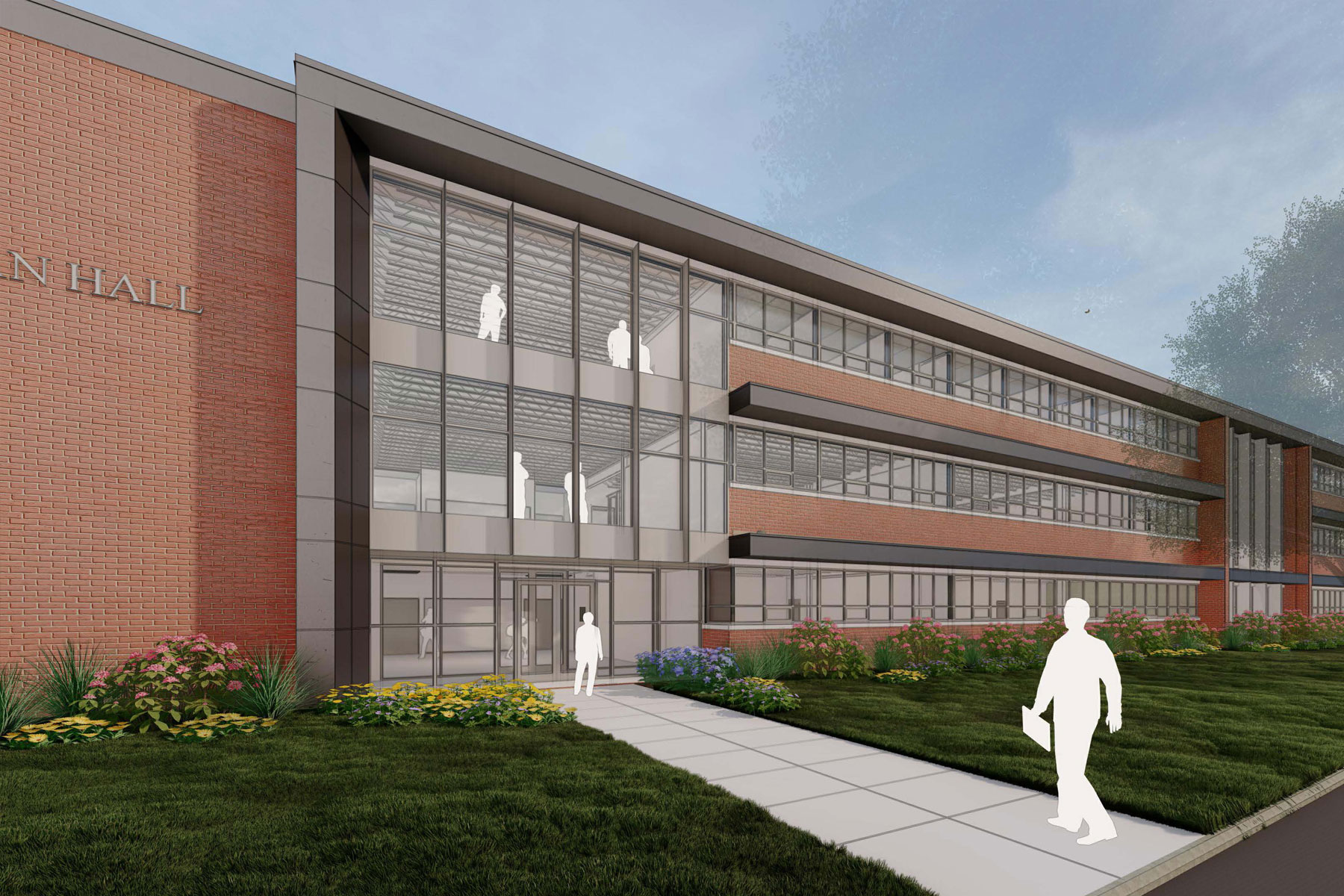 This artist's rendering shows what Edwin Duncan Hall might look like once the building's renovations are complete. Graphic courtesy of McMillan Pazdan Smith Architecture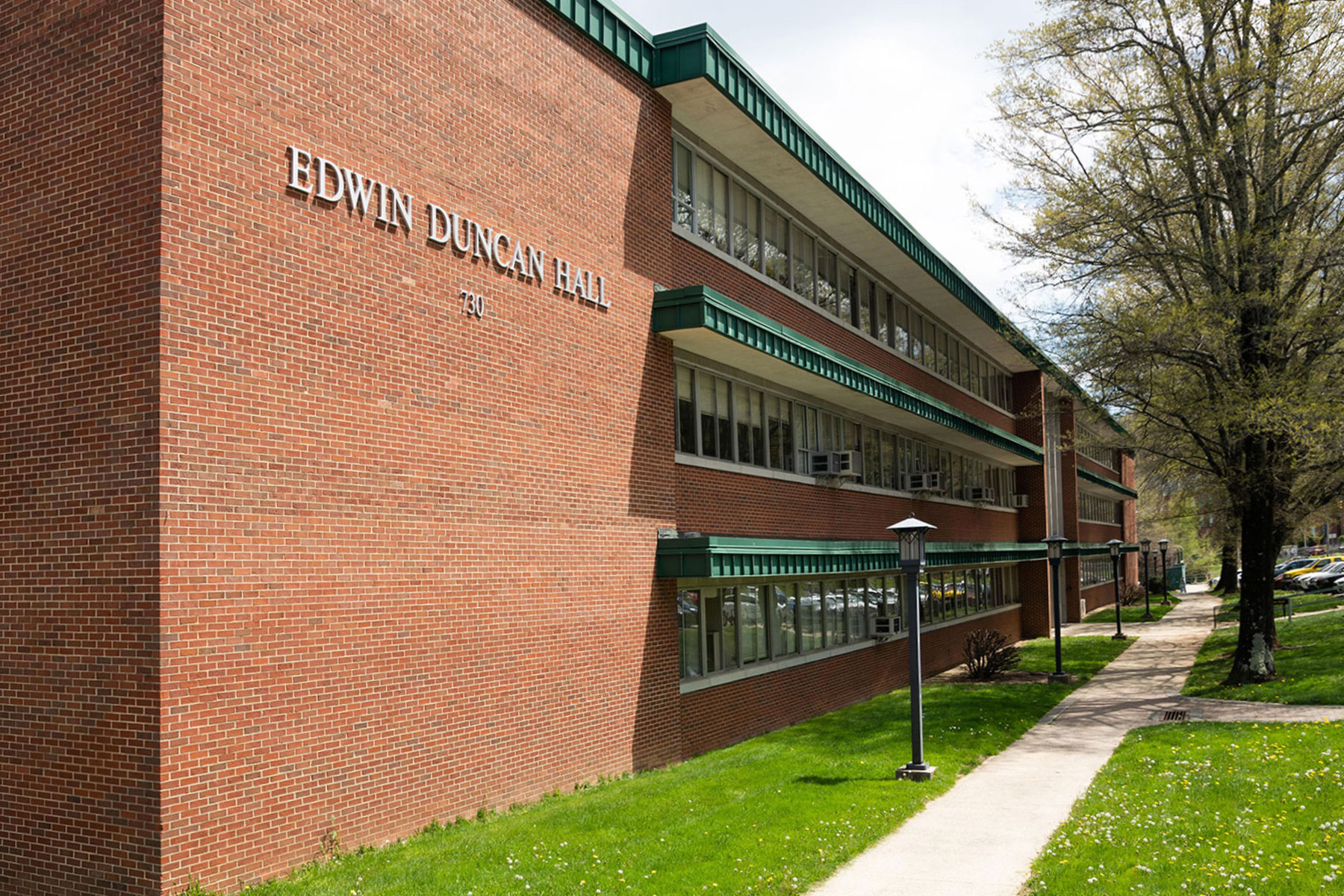 App State's Edwin Duncan Hall is scheduled to undergo a nearly $21 million renovation, with construction slated to begin in summer 2023. Photo by Chase Reynolds
Status
App State has selected McMillan Pazdan Smith Architecture, based in Charlotte, North Carolina, as the designer for the project, and Vannoy Construction, located in Jefferson, North Carolina, will serve as the project's construction manager. The renovation design is underway, with project construction slated to begin in summer 2023. This project is anticipated to be completed in spring 2025.
The building is currently home to the Dean's Office of App State's College of Fine and Applied Arts, which enrolls more than 3,000 students and is made up of seven academic departments. Edwin Duncan also contains office and classroom space.
App State will have office swing space available in East Hall for Edwin Duncan Hall faculty and staff displaced by the renovation. Classes and labs will be accommodated in various academic buildings.
How is it funded?
Funding allocated to App State by the North Carolina General Assembly as part of the FY 2021–22 biennial budget bill, signed into law by Gov. Roy Cooper on Nov. 18, 2021, includes nearly $21 million in support for the Edwin Duncan Hall renovation. Of the $21 million, $800,000 is reserved for HVAC and lighting improvements.
Who will benefit?
App State students, faculty, staff are set to benefit from the Edwin Duncan Hall renovation. Investing in the development of App State's physical infrastructure supports and elevates the university's educational mission — and empowers the vast human potential on App State's campus.
How does it support UNC System Goals and Metrics?
Providing the best environment for teaching and learning can impact recruitment and retention of students, faculty and staff.
Nearly completed major projects:
An aerial view of areas receiving millennial campus designation at Appalachian State University. Video by Marie Freeman